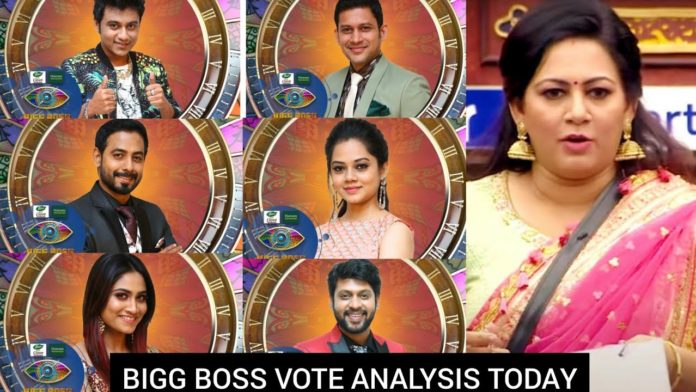 Bigg Boss Tamil season 4 is in week 11, and with less than a month remaining for this season's finale, things are getting heated up between contestants. Every contestant is now playing to save themselves from nomination or to impress the fans to get votes. With a double eviction last week and 10 contestants still in the house, we can expect another double eviction in the coming weeks. Nisha and Jithan Ramesh were evicted from the love gang last week.




The 'Chicken vs Wolf' luxury budget task and weekend incidents, evictions are impacting the audience mindset for voting by considerable means. There was a fight between Archana and Som even though they are from the same love gang. Archana is doing her best to win the special power so that she can save herself from eviction.
Aari is once again dominating this week's voting results with almost 30% of votes, followed by Rio with 15% votes. Balaji Murugadosss is missing from nomination this week, and hence his fans are supporting contestants like Shivani. The presence of three contestants from the 'love bed group' gave the audience a week to shift focus on Aajeedh and Anitha.
Bigg Boss Tamil 4 Voting Results Week 11 Eviction – 16th December 2020
Rio – 15.29% (122,892 votes)
Aari – 29.42% (236,384 votes)
Anitha – 12.63% (101,506 votes)
Aajeedh – 9.87% (79,275 votes)
Archana – 7.79% (62,591 votes)
Somshekar – 10.27% (82,540 votes)
Shivani – 14.73% (118,345 votes)
Bigg Boss 4 Tamil Elimination Nominations List Week 11
Archana
Rio
Aari
Shivani
Aajeedh
Somshekar
Anitha
Bigg Boss 4 Tamil Eviction Week 11 Voting Trends and Analysis
The open nomination for this week's eviction opened up the contestants to be more transaprent. Archana, Rio and Anitha are the three contestants who are keenly seen by the audience to see how they will play to win audience votes. Gabriella, Balaji, and captain Ramya were not nominated this week.
Aajeedh has opened up than before but is that enough to save him from eviction this week
Aari once again leads in votes, he will be one of the Top 5 contestants of this season
Somshekar attempted to make some smart moves during the task but the impact on his safety is minimum.
Shivani's sob story is helping her gain some traction as she entered the top 3 in the voting results on several social media platforms.
Archana is at the bottom of the voting table and her sob story and fight with Som will have some impact on voting in the next two days.
Captain Ramya Pandian was safe from nominations this week. 
Who Will Be Safe From Eviction This Week?
According to reports, Aari, Shivani and Rio are likely to be safe this week.
Who Will Be in Danger of Eviction This Week?
According to reports, Archana and/or Som Sekar are likely to be evicted this week.
How to Vote in Bigg Boss Tamil Season 4 Week 11 Elimination?
How to vote in Hotstar for Bigg Boss Tamil Season 4 Disney+ Hotstar App?
Open Play Store or iOS Appstore in your Mobile.
Search for the " Disney+ Hotstar " app and Install the latest version.
Now open the Hotstar app.
Go to the "Bigg Boss Tamil" page.
Below the stream, you will find an option to vote.
Click the "Vote now" button.
Choose your Favourite Contestant.
You have 50 votes each day to vote for Bigg Boss Tamil 4.
Missed call voting method is also available, and that information is given below.
Featured Image Poll results courtesy: tamilglitz