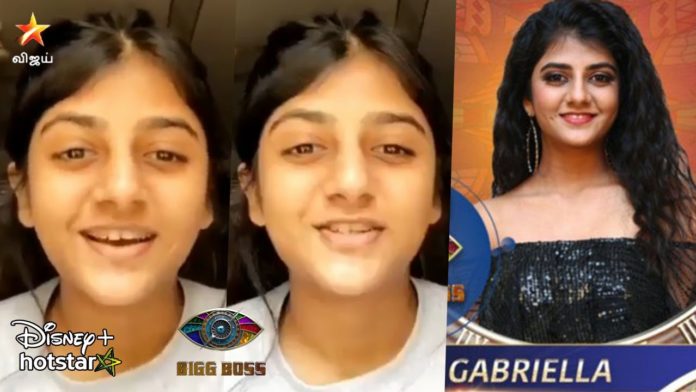 Bigg Boss Tamil 4 is nearing its closure as the contestants celebrate their last few days in the house. The finale week was filled with happiness, emotions, and drama as the evicted contestants reentered the house. The focus of the audience remains on the finalist who will leave with the suitcase filled with INR. 5 Lakhs cash prize.
Six finalists entered the final week 15 of Bigg Boss Tamil 4. Somshekar won the 'ticket to finale' and was the first finalist. Aari, Balaji, Rio, Ramya, and Gabriella were the other finalists to join Somshekar. Gabriella was the last finalist to enter the top six of Bigg Boss Tamil Season 4. She was saved from eviction in week 14. Shivani Narayanan was eliminated in the same week.
Considering the competition at stake, Gabriella Charlton was well aware of her diminishing probability of entering the top 3. Aari was cruising with a massive following outside the house. Balaji is a top contender to finish in the final two of Bigg Boss Tamil 4. However, Somshekar and Gabriella did not have much to showcase.
According to reports, Ramya Pandian was likely to leave the house with a cash prize of INR 5 Lakhs. One of the finalists will get the opportunity to leave the house with the cash prize. However, Gabriella was the one who took the decision.
The audience started making assumptions as the latest promo released by Star Vijay did not feature Gabriella in it. The audience is unhappy about Gabriella's decision. There are voices on social media who feel the wrong order of saving contestants last week caused Gabriella to take the decision.
Gabriella needed the cash as her career is yet to take off. It was a smart decision by the young star considering the competition at stake. Hence, Gabriella is the first finalist to be evicted from the final week 15 of Bigg Boss Tamil 4.
Because of last weeks wrong eviction order she was upset and left . Ramya was last before Shivani but Gaby was shown. #BiggbossTamil4 #biggbosstamil #Aari #AariArjunan #RamyaPandian #BalajiMurugaDass #Balaji #Gaby #gabriellacharlton #Shivani #shivaninarayanan #Aajeedh #Som https://t.co/2M8HifVRgG

— Maria (@Maria13578300) January 14, 2021
#gaby is missing here and #ramya is reading so it could be true.
Ehmm if its true good for her#biggbosstamil4 #Aari #bala #rio #som pic.twitter.com/HJaI8XqJv4

— Bigg Boss Tamil 4 (@biggboss_tamil4) January 14, 2021
Very bad to make a 21 year feel down. @vijaytelevision Supporting Ramya than Gaby. #BiggbossTamil4 #biggbosstamil #Aari #AariArjunan #RamyaPandian #BalajiMurugaDass #Balaji #Gaby #gabriellacharlton #Shivani #shivaninarayanan #Aajeedh #Som https://t.co/yyaHwmO9Ls

— Maria (@Maria13578300) January 14, 2021