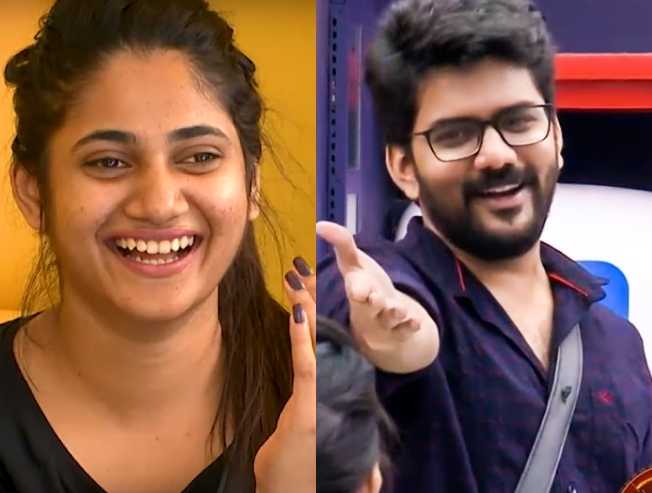 Bigg Boss Tamil 3 came to a phenomenal end. Mugen Rao became the title winner of Bigg Boss Tamil 3. Losliya, Sherin and Sandy were the other finalists of Bigg Boss Tamil 3.
However, the love birds of Bigg Boss Tamil 3 grabbed the maximum limelight throughout the finals. Losliya ended up as the second runner up of this season. Even during the finals, Kavin was trending on Twitter though he was not a part of the finalists.
The fans of Kavin were ecstatic to see their favorite contestant on stage. Kavin was welcomed with a rousing applause on stage.
'Kaviliya' is the term coined by the fans of Kavin and Losliya. Ever since the finale got over, Kavin's fans were eager to see pictures or footage of Kavin and Losliya together. Also, it is clear that the fans are missing the show and Kavin's presence immensely.
Kavin and Losliya's relationship received immense coverage in Bigg Boss Season 3. Kavin's fans are looking forward to the couple taking their relationship forward outside the Bigg Boss house.
The hashtag #WeCherishKaviliya has received a whopping 66K+ tweets within no time.
#WeCherishKaviliya 66k pic.twitter.com/4sqSnX1QvW

— KSF ᴰᵃᴰᵃ (@Kethsivijayara1) October 7, 2019
#BB3RealTangibleManKavin #WeCherishKaviliya
kavin bro ipo rompa happya irukaru… ethay mathiri epavum irukanum…. be happy😍😍😍😍😍 https://t.co/k0Q6nEvpSF

— sudhavinu (@sudhaka71937239) October 7, 2019
" You're NOT JUST MY SUNLIGHT AND MY MOONBOEAM ,

YOU'RE MY ENTIRE UNIVERSE " #KaVliya Is Our Emotions 😍❤️😍#WeCherishKaviliya@Rowler2 @Sadhana00145657 @Sharmini26 @Johnson98497856 @hazelists @only_los @arunjeba @SataSathiesh pic.twitter.com/ImDKv6mJuT

— Durgapallavi (@Durgapallavi8) October 7, 2019
Kavin to losliya: Naan ellam vetka patale thala kuniya matan…😉

*Poi Poi Poi 😂😂😂

Few memories which makes me to smile by feeling their love 😉
Kavin 💞 Losliya
Decent pair captures many hearts pic.twitter.com/XXmzmJ8256

— Yuna 𓃸 || Hiatus (@Yuna_Chillz) October 7, 2019
#WeCherishKaviliya pic.twitter.com/5rTYPd0lll

— KSF ᴰᵃᴰᵃ (@Kethsivijayara1) October 7, 2019
#WeCherishKaviliya
kandy forever pic.twitter.com/7LlCPbAqHC

— navin (@navin18271566) October 7, 2019