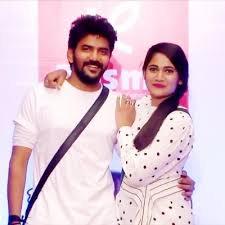 Bigg Boss ended on 6th October but the buzz has not gone down, the makers of the are show are planning BB Kondattam a special program where the contestants of Bigg Boss are performing. Kavin and Losliya, who were loved by many during the course of the show, have reunited for the program, and one of their pictures has been going viral. Fans of Kavin have many expectations now as pictures of Kavin performing as Vijay and Ajith have also been shared.




Speculations were made about Losliya and Kavin's relationship and their silence on social media. However, fans were happy to see the duo perform in the Bigg Boss Kondattam which concluded recently.
Kavin's Army is very active on social media and his fans are crazy about the relationship between Losliya and Kavin.
https://www.youtube.com/watch?v=1va7uqGNlvk
Kavin and Losliya Upcoming Film Latest News
Reports suggest that Kavin is likely to act in his first film post Bigg Boss fame. Interestingly, Kavin has acted in a few movies before. Unfortunately, they did not do well in the box office.
The most interesting news about Kavin's upcoming movie is Losliya is likely to act opposite to him. The movie is going to directed by Shiva Aravind. Shiva Aravind's earlier movie with Kavin, 'Natpuna Ena Teriuma' faced a lot of release roadblocks.
It is reported that Kavin's upcoming movie is in the quest of a production house and further news about the confirmation of the production schedule is awaited anytime soon.
Kavin's fans are excited about the upcoming film's news but are patiently waiting for official confirmation.
Are you excited about Kavin and Losliya's upcoming movie ? Let us know in the comments below.