Bigg Boss Tamil 3 gears up for its elimination weekend. Kavin, Mugen, Losliya, Cheran and Sherin are nominated for eliminations this week. The inclusion of Mohan Vaidya, Sakshi and Abirami might be a game changer for the rest of the season in Bigg Boss Tamil 3. While Vanitha promotes individuality, the Boys group strives to hold their pack together until the finals.
Vote here – Losliya crying for Cheran Elimination Fake or Real?
This week's elimination voting results for Bigg Boss Tamil 3 is still inconclusive as Cheran and Sherin are battling it out to save themselves from the final spot in terms of audience voting numbers.
Sherin vs Cheran – Cheran Loses the Battle By a Whisker? 
Cheran is likely to be eliminated this week as his attention in the house is reducing by the day. He is not getting enough screen time though his points and ability to tackle issues is still at par with his past behavior.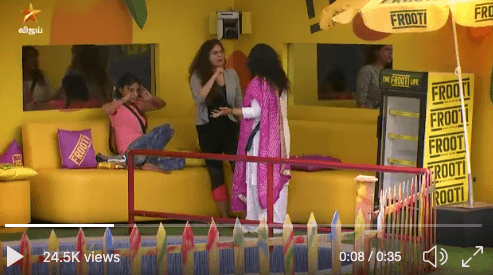 Sherin might save herself by a whisker this week. Though her attitude in dealing with house related tasks is dismal, she might have done enough to gain the sympathy of the audience. From being a strong contender for the title, Sherin has stooped down to a level where she has to save herself from elimination.
Will Cheran Be Sent to the Secret Room?
After a scintillating showdown between Cheran and Sherin, reports suggest that Cherin will face the bullet this week. However, the secret room factor might come in to play today. It is reported that Cheran will be sent to the secret room post elimination announcement. Based on Bigg Boss' instructions, Cheran will be sent into the secret room and has his headphones on. The room outside possesses red, yellow and green lights.
However, it is unclear if Cheran might emerge successful and go back into the house after the secret room ordeal.
Do you think Cheran deserves to be eliminated in Bigg Boss Tamil 3? Let us know in the comments below.