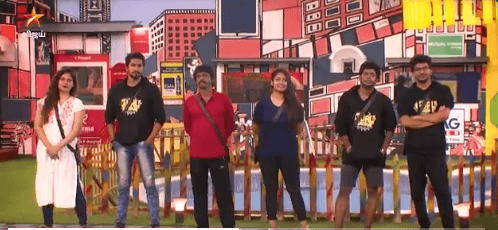 After an emotional week at the Bigg Boss Tamil 3 house, the contestants can expect some tough tasks this week. 'The Road to Finale' tasks are lined up for the remaining contestants in Bigg Boss Tamil. At the end of the week, Bigg Boss will grant one contestant the right to participate in the Bigg Boss Tamil 3 finals.
#Day86 #Promo1 #பிக்பாஸ் இல்லத்தில் இன்று.. #BiggBossTamil – தினமும் இரவு 9:30 மணிக்கு உங்கள் விஜயில்.. #BiggBossTamil3 #VijayTelevision pic.twitter.com/oWpsytFbv0

— Vijay Television (@vijaytelevision) September 17, 2019
However, it would be interesting to see which contestants really deserve to win the title of Bigg Boss Tamil.
Bigg Boss Tamil 3 : Road to Finale Tasks Update Day 1
Task 1: Balloon Bursting Task
Tharshan won the balloon bursting task followed by Sandy. The duo fought it out until the last moment and it was a hard fought victory for Tharshan. Tharshan suffered injuries during the task. However, Sandy did not give up and gave his best.
Task 2: Tug of War
Tharshan's team emerged as the winners in the tug of war battle as well.
Task 3: Rank the Contestants
Each contestant ranked the other seven contestants in the order of 1 to 7. The contestant with the maximum number of first ranks gets the most points while the contestant with the lowest ranks on an average gets the least.
Overall, Sandy and Tharshan were the top two contestants in everybody's rankings.
Bigg Boss Tamil 3: Road to Finale Tasks Ranking Update
The rankings based on the performances of contestants on Day 1 of the 'Road to Finale' tasks are as follows:
Tharshan
Sandy
Mugen | Cheran
Losliya
Sherin
Kavin
Who Will Be the Road to Finale Tasks Winner? – Vote NOW!
Who Will Win the Road to Finale Ticket?
Vote now to predict who will win the Road to Finale tasks this week on Bigg Boss Tamil 3.