As Bigg Boss Tamil 3 enters into the most exciting weekend so far, the audience will be eager to see the host Kamal Hassan discuss a lot of issues from the past week. The last week was filled with an array of controversies ranging from the fight between Sherin and Vanitha, Sakshi's fight with Losliya during the animal awards nominations night and Losliya's disrespectful, arrogant behavior against Mohan Vaidya.




However, according to latest reports Sakshi is out of the Bigg Boss Tamil 3 house and is seen discussing with the host Kamal Hassan. In one of the episodes last week, Sakshi is seen discussing with Sherin and stated that her relationship with Tharshan looks cute on screen outside the house.
#Day76 #Promo2 #பிக்பாஸ் இல் இன்று.. .#BiggBossTamil – தினமும் இரவு 9:30 மணிக்கு உங்கள் விஜயில்.. #BiggBossTamil3 #KamalHaasan #VijayTelevision pic.twitter.com/KB8r4KL0w5

— Vijay Television (@vijaytelevision) September 7, 2019
However, Sakshi appears to not clearly understand the context. While the audience claim that she is acting,  Kamal Hassan triggers Vanitha and asks her why she is not talking when he is asking her to (meaning she only talks when it is unwanted?).
Sakshi made a blunder knowingly or unknowingly inside the house. The audience is the back bone of a show like Bigg Boss Tamil 3. At one instance, in the pretext of consoling Sherin she ended up calling the audience as 'barking dogs' and asked Sherin to ignore them.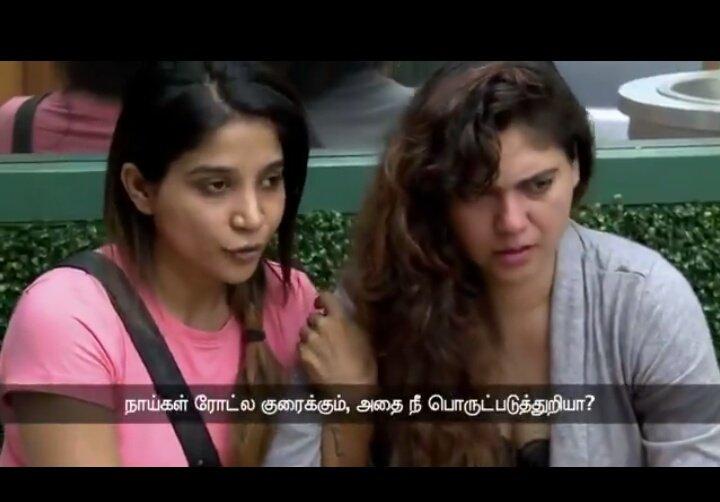 The audience are furious as Sakshi's comments were totally unwelcome. The audience feel she does not deserve to stay in the house and she owes an apology to them. The audience do not make personal remarks and contestants of a show like Bigg Boss are bound to be commented based on their behavior and character while staying in the house.
The 76th day of Bigg Boss Tamil 3 promises to be very entertaining as Kamal Hassan reveals the veil which Sakshi used to influence Sherin. She entered the house with a clear vengeance and gameplan. However, nothing of that sort can happen under the host Kamal Hassan's vigil.
Let us know what you feel about Sakshi in the comments below.