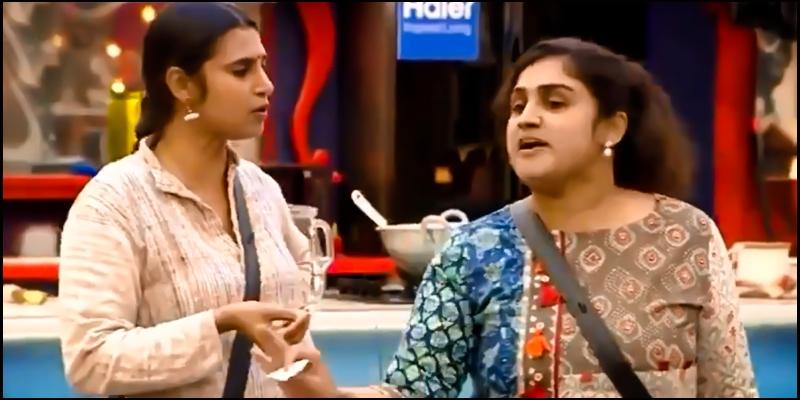 The controversies seem to be never ending in Bigg Boss Tamil Season 3. Post Madhumita's eviction, things were expected to cool down. However, Vanitha is not in the mood to restore calmness in the house.
Vanitha is playing to her advantage. She is safe from elimination this week as she is a wildcard reentry. Considering the fact that she cannot lock horns with "The Boys Gang", she is finding her enemy in Kasthuri.
Kasthuri Vs Vanitha – What Will Be the Outcome of this Spat?
The school students task develops a spat between Vanitha, who plays one of the students and Kasthuri who plays the role of a teacher. After the task, Kasthuri is seen discussing the happenings of the school students task with other inmates during which she refers to Vanitha. Vanitha comes charging at Kasthuri for passing remarks on her body.





While Kasthuri tries to clarify the conversation and its context, Vanitha denies Kasthuri the opportunity to do so. However, Vanitha reiterates that she is the mother of three children and she does not like one by any means.
#Day58 #Promo3 #பிக்பாஸ் இல்லத்தில் இன்று.. #BiggBossTamil – தினமும் இரவு 9:30 மணிக்கு உங்கள் விஜயில்.. #BiggBossTamil3 #VijayTelevision pic.twitter.com/iQ3uV48Bu9

— Vijay Television (@vijaytelevision) August 20, 2019
The other contestants are mute spectators to the fight between Vanitha and Kasthuri. The incessant targeting of Kasthuri seems to be Vanitha's next game plan in Bigg Boss Tamil 3. After doing a propaganda on Mugen-Abirami's relationship, triggering Madhumita to burst out on the "women using men" issue, Vanitha is now focussing on Kasthuri.
Kasthuri is undoubtedly the weakest link in the Bigg Boss Tamil 3. With absolutely no support, the senior star is going to be in a tough spot as Vanitha is deciding to target her time and again. Will Kasthuri brave the storm or will this be her last week in the house?
Let us know what you think in the comments below..