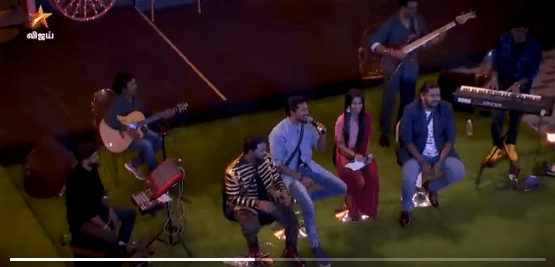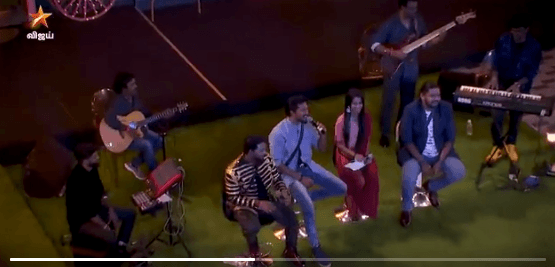 Bigg Boss Tamil 3 is heading for an epic finale in a few days. Mugen, Sandy, Sherin and Losliya are enjoying their last few days in the house. There is peace and calm in the house as the finalists realise that they should cherish the limited days at the Bigg Boss 3 House.
On the Day 100 of Bigg Boss Tamil 3, the finalists along with the guests Fathima Babu, Meera Mithun and Mohan Vaidya were hosted a musical fest at the Bigg Boss house for the evening.
The music troupe included popular singers like Soundarya Bala Nandhakumar and Priyanka from the previous seasons of Airtel Super Singer. The troupe dedicated a few songs to each of the contestants and finally Soundharya agreed to sing to Mugen Rao's 'Sathiyama Naa Solluren Di' from the Charanam.
Mugen Rao 'Sathiyama Naa Solluren Di, Un Paarve Aala Thookuthadi' Song Performance in Bigg Boss Tamil 3 Day 100 
https://youtu.be/P5OAqB9RiLg
Mugen Rao Nee Than Song Lyrics Video Download
The song is a viral sensation and it won't be surprising to see some upcoming Tamil film taking copyrights for the song. Mugen Rao is a talented artist and he exhibited it once again with his amazing song at the right moment.
Mugen's fan base from Malaysia and India is huge and he is one of the top contenders to win Bigg Boss Tamil 3 title this time.