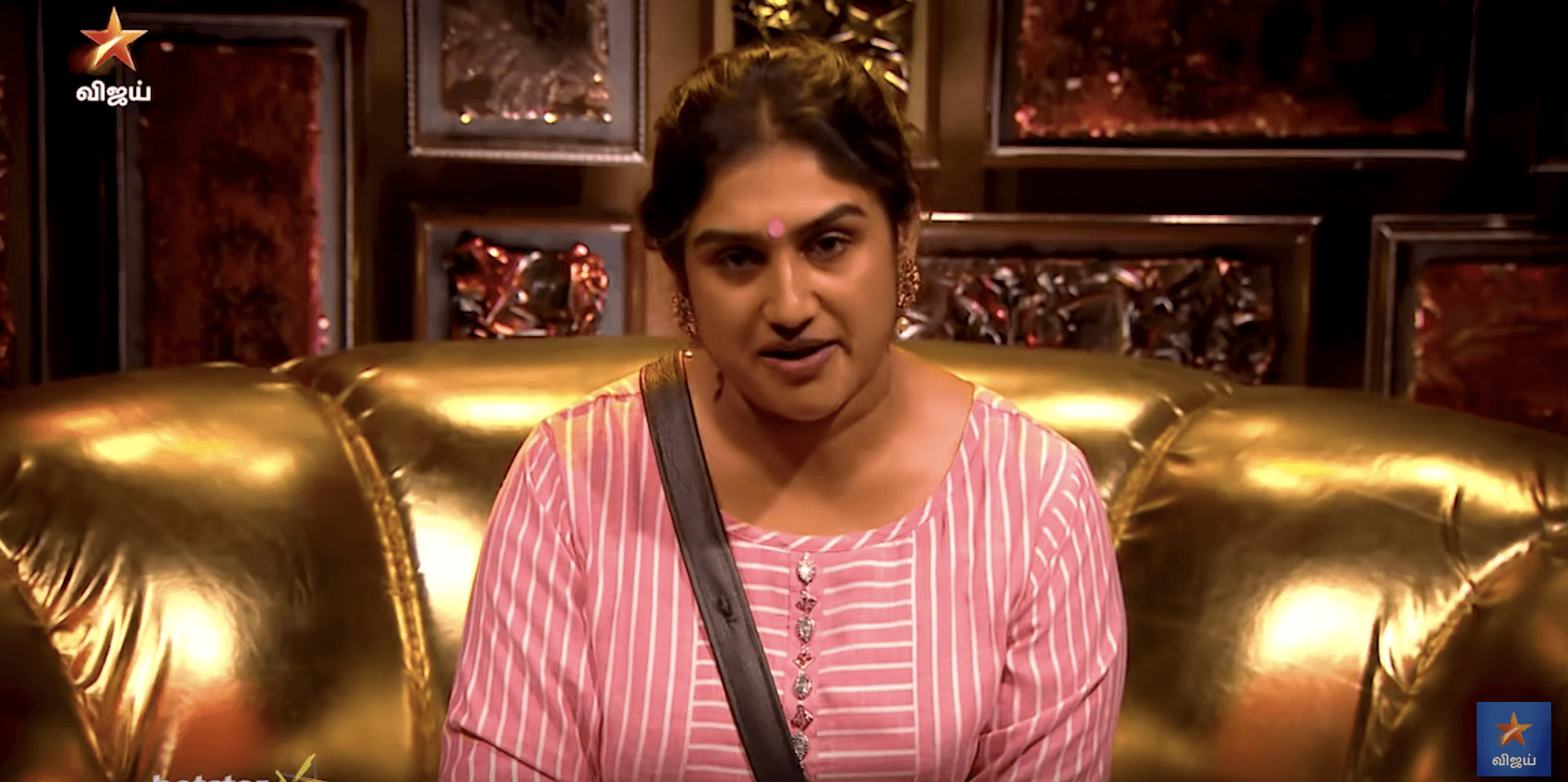 Bigg Boss Tamil 3 enters its 100th day. The finalists are lurking around the house with nothing much to do. With guests entering and going out, the final week seems to be a dull affair with not much action.
However, the fans of Losliya, Sherin, Sandy and Mugen are eager to see their favorites grab the title of Bigg Boss Tamil 3.
It is speculated that Bigg Boss Tamil 3's evicted contestant Vanitha Vijayakumar will be entering the house as a guest today. However, the agenda of her entry seems unclear.
The last time Vanitha got a reentry in the house, things went haywire. She triggered an array of controversies and plotted a lot of fights. However, this time she might not have a lot of time to do the same.
Vanitha Vijayakumar has been very active on Twitter post her eviction from Bigg Boss Tamil 3. Vanitha slammed the organizers for allowing the finalists to enjoy their last few days. She claimed survival is not tough in Bigg Boss Tamil 3 anymore.
https://twitter.com/vanithavijayku1/status/1178899794397282305
After Tharshan's shocking eviction, Vanitha blamed Sherin for making use of Tharshan's influence to enter the finals. She claimed Tharshan's fans voted for Sherin to save her as they were sure that Tharshan would make it to the finals.
Vanitha took to Twitter to announce her entry into the Bigg Boss Tamil 3 house as a guest.
I'm highly dissapointed . is this how they select a Bigg boss title winner?voting is scam and no justice for evicted contestants.ridiculous.initially the content was high and dramatic.but now how hard is it to survive there?going as a guest

— Vanitha Vijaykumar (@vanithavijayku1) October 1, 2019
Ok tweeple I'm just going to go I'm entering #BiggBossTamil3 tomorrow.lots to do .will see you guys in the finale .

— Vanitha Vijaykumar (@vanithavijayku1) September 30, 2019
Will Vanitha take up Tharshan's eviction news once she enters the house? Let us know in the comments below.