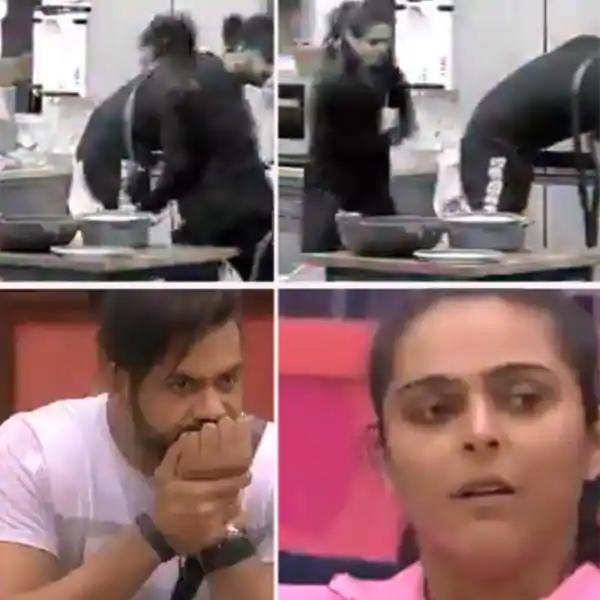 If there are no fights, no arguments or there aren't any physical fights, then it's not Bigg Boss Season 13. This season has crossed all the limits. The contestant inside are so on each other's nerves that they want to tear apart each other. There is no one day where the house isn't silent without fights. There have been fights and arguments in the previous seasons of Bigg Boss, but this season has crossed limits and everything has gone to an extreme.




In yesterday's episode, there was a huge between two ex-lovers, Madhurima and Vishal. They started to argue over a small issue, which went haywire. Vishal was calm and composed but Madhurima had lost it and in that fit of rage, she threw a cup at Vishal. Later, Bigg Boss gave both of them punishment to sit inside a cage till the weekend. Madhurima accepted the punishment but Vishal was adamant that he won't accept it and wants to leave the house. Madhurima was annoyed on Rashmi as she didn't convince Vishal to take up the punishment.
Everybody tried to convince Vishal to stay and not leave the house as Weekend is close and Salman Sir shall take a decision on this. Vishal was adamant on his decision and is leaving the house.
If you have watched all the seasons of Bigg Boss, there is a tradition that after spending some months in the Bigg Boss house, the family of the contestants visit them. But this isn't a visit which favours the contestants. Bigg Boss stops the contestants in whatever state they are and then the family member is allowed to meet everyone. Bigg Boss then lets the contestant meet his family member for few minutes.
In the upcoming episode, we shall see how the family members of the contestants meet them. All the contestants share an emotional moment.
Siddharth Shukla meets his Mom, she tells him stay Happy.
Siddharth Shukla's mom is seen visiting him in the Bigg Boss House. He greets her with a tight hug. Siddharth then introduces her to everyone. Rashmi says they both take care of each other. They both sit in the living room and then she tells him to be happy. He should flaunt his smile as much as possible.
Shehnaaz also meets her father, he says whatever feelings you have for Siddharth Shukla, she shouldn't take it to next level. Bury them now only. He also mentions that Mahira and Shehnaaz shouldn't get influenced by Paras.
Krushna enters the house, says Aarti has made him proud
Krushna enters the house. Aarti is jubiliant on seeing him. He says that the biggest proud moment for him was when someone called him as Aarti's brother during a show. As a surprise, he brings her kids who become emotional on seeing her.
Mahira's mom enters the house; Warns Paras about their relationship.
Mahira is delighted to see her mom. Her mom greets all the contestant very happily. She even calls Asim as Mahira's brother. But she sarcastically, keeping a happy face warns Paras not to kiss Mahira as she doesn't like it. She also mentions that his current girlfriend is so pretty and he should maintain bit distance from Mahira.
As the episode shall progress, we shall see many entries. Some might be emotional while some might be a learning curve for contestants. It will be interesting to see once Paras's mom enters the house as he has been targeted by Mahira's mom and Shehnaaz's father. Also, Asim's brother Umar is tipped to enter the house. So, it will be interesting to see him talk to Siddharth Shukla.
Tune into Bigg Boss 13 everyday at 10:30-11:30 on Colors TV.