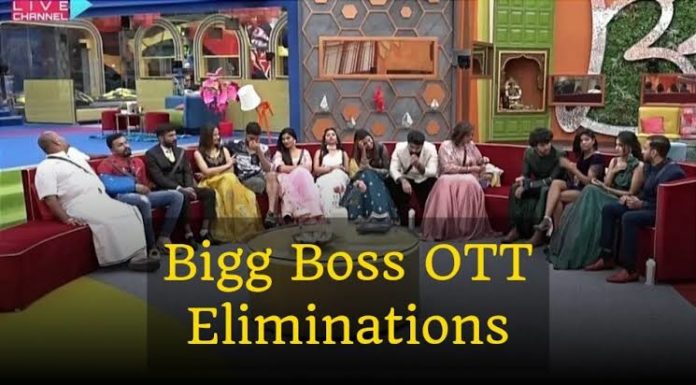 Bigg Boss Kannada OTT Season 1 started on 6th August 2022 with 16 contestants and currently it is running its 5th week. The show is hosting by Kicha Sudeep.  Since contestants are into stepping towards the upcoming weeks they started to show their fiery competition towards the game show. At present the show is nearer to the weekend, so they are going to take out a contestants for the week 5.
It is noteworthy that the contestants named, Kiran, Spoorthy Gowda, Uday Surya, Chaitra, Akshatha Kuki are eliminated in weeks 1, 2,3 and 4 respectively. Lokesh and Arjun are walked out from the show due to their personal reasons and injuries.
Bigg Boss 1 OTT Kannada week 5 nomination list
The nomination list for elmination of week 5 BB1 Kannada OTT inclues:
Nandhini – 35%
Jashwanth -20%
Jayashree Aradhya – 10%
Aryavardhan -5%
Sonu Srinivasa Gowda – 22%
Somanna – 8%
Bigg Boss 1 OTT Kannada Voting Results Live Online Poll – last day – 10th September 2022
Love track is a hidden secret for Bigg Boss shows to attain the high viewership rate from the audience.
In line, Rakesh is likely to build a love track with his co-contestants to get a good response of viewers.
Initially Sonu and Rakesh seems to be closer with each other and they both were expected to become a couple of BB OTT Kannada.
Suddenly in a recent shows Rakesh kissed Jayashree, which makes Sonu to become anger with him. She desperately shows her facial expressions because this kissing scene, which goes viral in media as of now.
Except the above controversy, all other contestants are putting their endless effort to grasp the trophy and cash amount.
Aryavardhan is got less count in online polling, he could be a possible contestant to be in a red zone. However this is unofficial, so we need to wait and watch the show for the further updates of week 5 elimination.
Sooner the BB OTT Kannada 1 team has planned to have its grand finale.
Bigg Boss OTT Kannada Elimination List
Spoorthy Gowda
Kiran
Uday Surya
Chaitra
Akshatha Kuki
Lokesh(Walked Out)
Arjun(Walked Out)