In the first Weekend Ka Vaar of Bigg Boss OTT, Karan Johar showed the contestant Urfi Javed the way out of the house. Urfi Javed got the least votes from the audience, after which Karan Johar invited her to come out of the house. Fans were furious after Urfi Javed was out of the house, and they also made many tweets, but we all know that in Bigg Boss OTT, the audience can decide who they want to eliminate from the show.
Urfi Javed thanked the fans after being out of Bigg Boss OTT and said that his journey was short but memorable. Sharing a picture from his house on Instagram, Urfi Javed wrote, 'I am back home. Thanks for supporting me. My journey was short but good.' You can see Urfi Javed's post below: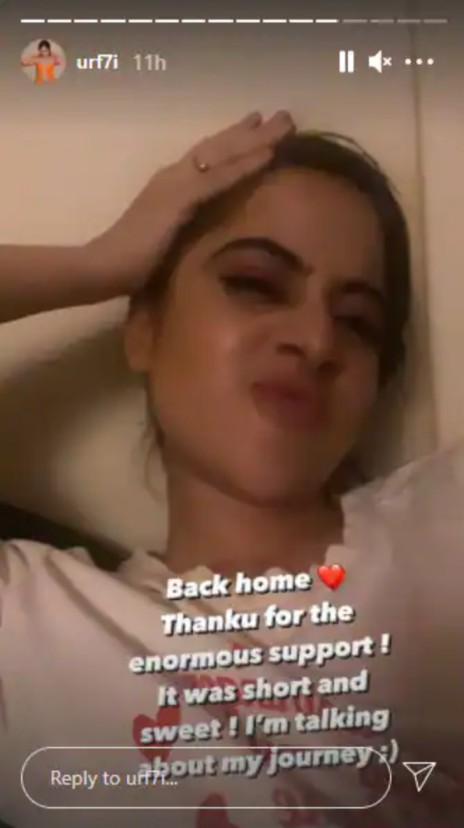 Karan Johar's anger on Weekend Ka Vaar:
In the first Weekend Ka Vaar of Bigg Boss OTT, the audience saw the anger of Karan Johar. Ever since Bigg Boss OTT started, the audience was excited to see this avatar of Karan Johar. Many people did not believe that they could even be angry.
However, Karan Johar proved yesterday that he is not going to forgive the mistakes of the contestants. If someone does wrong, then such a class will be held in Weekend Ka Vaar that his senses will come to his senses. Karan Johar got angry with Divya Agarwal last night and said that she is in Bigg Boss' house and not at any party. By the way, are you happy or disappointed with the eviction of Urfi Javed? Definitely tell us in the comment section.