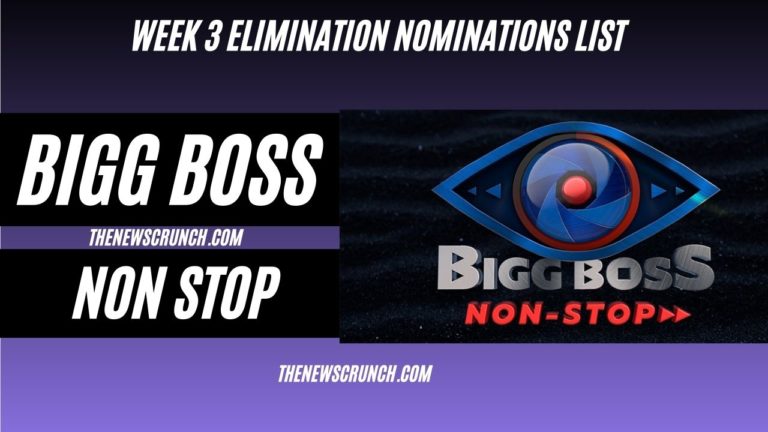 Bigg Boss Non Stop kicks off the third week with a colorful elimination open nominations task. The fiery second week of Bigg Boss Non Stop featured the eviction of Shree Rapaka from Bigg Boss Non Stop house. However, the limelight shifts to the third week elimination nominations this week.
Also Read: Bigg Boss Non Stop Online Voting Results Week 3 Elimination – 15th March
Bigg Boss Non Stop is gathering steam as it enters the third week of action. The fight filled open nominations task resulted in a mix of arguments, drama among the housemates facing the eviction danger in Bigg Boss Ultimate this week. A whopping eleven contestants are nominated this week.
Bigg Boss Non Stop Nominations List Week 3
Ajay
Sravanthi
Tejaswi
Hamida
Mitraaw
Ariyana
Natraj Master
Akhil
Shiva
RJ Chaithu
Bindhu
Mahesh Vitta
Bigg Boss Non Stop Voting Results Week 3
The third week of nominations list for elimination is filled with a long list of contestants like the second week. The open nominations resulted in controversies which resulted in arguments between Akhil and RJ Chaitu.
Akhil Sarthak is a bone of contention as the housemates realize his strength. His fight with Anchor Shiva last week and RJ Chaitu this week is a clear indication of the attention grab.
Mitraaw survives yet another week after two consecutive weeks in the bottom 2 for elimination voting results.
Natraj Master and Anchor Shiva had a huge tussle during the nominations task this week.
Ariyana and Tejaswi entered into a cat fight as Tejaswi attempted to influence Bigg Boss Non Stop housemates about Ariyana's mistake.
Saryu, Ashu and captain Anil Rathod are the only safe contestants this week.
On that note, there are also chances for a double elimination in Bigg Boss Non Stop this week. However, the third elimination of Bigg Boss Telugu could be the one who is targeted by the masses.
Bigg Boss Non Stop Vote Online Voting Results Week 3 Day 1
Bigg Boss Non Stop Elimination list
Mumaith Khan
Shree Rapaka