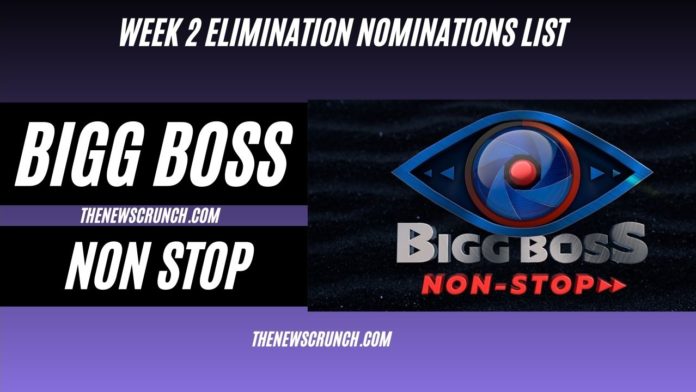 Bigg Boss Non Stop commences the second week with a fiery elimination open nominations task. The controversial first week of Bigg Boss Non Stop featured the eviction of Mumaith Khan from Bigg Boss Non Stop. However, the limelight shifts to the second week elimination nominations this week.
Also Read: Bigg Boss Non Stop Online Voting Results Week 2 Elimination
Bigg Boss Non Stop is a shorter version of the reality show compared to the usual Bigg Boss Telugu seasons. The argument filled open nominations task resulted in a mix of strong and weak contestants facing the eviction danger in Bigg Boss Ultimate this week. A whopping eleven contestants are nominated this week.

Bigg Boss Non Stop Nominations List Week 2
Sarayu
Hamida
Anil Rathod
Mitraaw
Ariyana
Natraj Master
Akhil
Shiva
Ashu
Shree Rapaka
Mahesh Vitta
Bigg Boss Non Stop Voting Results Week 2
The second week of nominations list for elimination is filled with strategies and grudges. The open nominations resulted in controversies which resulted in arguments between Akhil and Shiva.
Sarayu, Natraj Master and Akhil nominated Shiva
Ashu Reddy, Hamida nominated Mitraaw
Tejaswi and Mahesh Vitta nominated Anil Rathod
Chaitu nominated Ariyana and Akhil
Sravanathi, Anil and Shree Rapaka nominated Sarayu.
Sravanthi, Shiva, Bindu nominated Natraj Master
Bindu, Ajay and captain Tejaswi are the only safe contestants this week.
On that note, there are also chances for the controversial image from their performances in their respective previous seasons to take in mind for the contestants. However, the first elimination of Bigg Boss Telugu could be the one who is targeted by the masses.
Bigg Boss Non Stop Vote Online Voting Results Week 2 Day 1