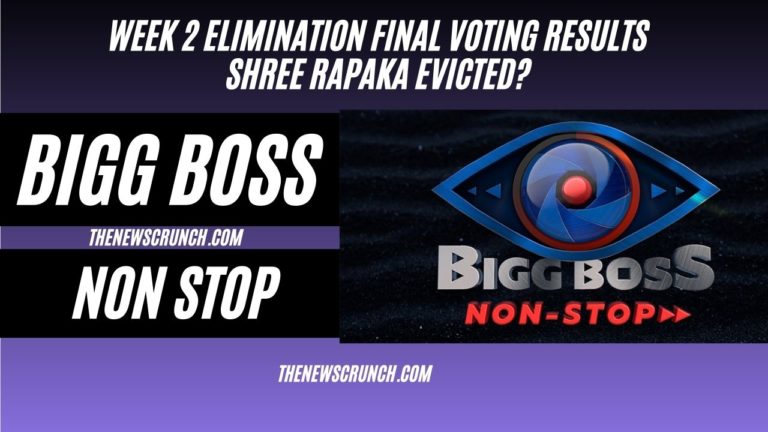 Bigg Boss Non Stop continues its second week with the gripping police task. A lot of intense fights took place as the nominations task with 11 nominations was the shocking realityof the week. However, the first elimination voting results signals danger for Shree Rapaka.
Also Read: Bigg Boss Non Stop Elimination Week 2 Update
Bigg Boss Non Stop online voting results for the second week will be impacted by the upcoming tasks and relevant performances. Akhil holds his lead at the top of the week 2 voting results. However, the eviction danger for the second elimination throws light on Shree Rapaka and Mitraaw Sharma.
Bigg Boss Non Stop Online Voting Results – BB Non Stop Telugu 2nd Week Nomination List
Sarayu
Hamida
Anil Rathod
Mitraaw
Ariyana
Natraj Master
Akhil
Shiva
Ashu
Shree Rapaka
Mahesh Vitta
Bigg Boss Non Stop Voting Results Live Online Poll – Day 5 – 11th March 2022
Sarayu – 8% votes
Hamida – 9% votes
Anil Rathod – 5% votes
Mitraaw – 3% votes
Ariyana – 13% votes
Natraj Master – 11% votes
Akhil – 21% votes
Shiva – 14% votes
Ashu – 10% votes
Shree Rapaka – 2% votes
Mahesh Vitta – 10% votes
Bigg Boss Non Stop Online Voting Results Week 2
Akhil leads by a huge margin in the Bigg Boss Non Stop online voting results though 11 contestants entered nominations. However, Shiva is also cruising ahead with some good screen coverage this week.
Natraj Master enters the top 5 of voting results as of day 5. However, Sarayu fails to make the cut.
Mitraaw was saved from the bottom two last weekend. However, she is in the bottom two this week as well.
Shree Rapaka trails the voting results from the first day but the margin of vote share between Mitraaw, Shree Rapaka and Anil Rathod in the bottom 3 is marginal.
It looks like the second elimination voting results will be a shocking suspense in Bigg Boss Non Stop.
Bigg Boss Non Stop Online Voting Results Week 2
How to Vote Bigg Boss Non Stop Online Week 2 Elimination on Hotstar App
For your queries on "How to Vote for Bigg Boss Non Stop?" below are the answers:
Download Hotstar App from Google Play Store or App Store
Create or login to your account on Hotstar App
Search for 'Bigg Boss' using the search box on the top right.
Select the Bigg Boss Non Stop show banner.
Now, you will find a Voting option below the latest Bigg Boss Ultimate video
Click the Vote button to cast your votes
Images of Nominated contestants will appear on the screen
Tap on your favorite contestant and split your votes
You can vote a maximum of 10 votes a day (Voting closes at midnight)