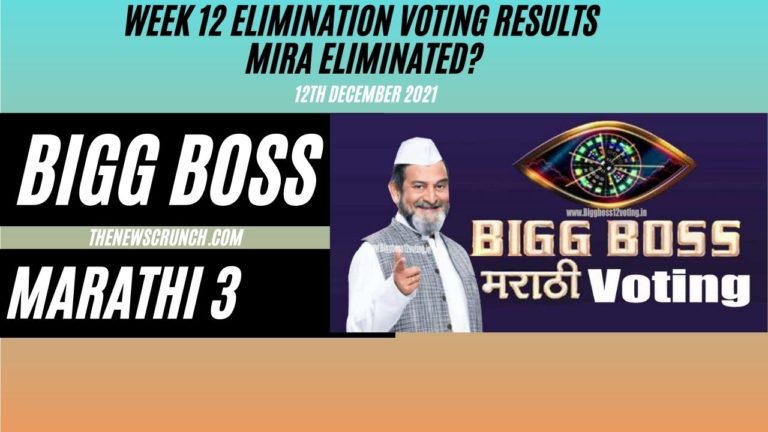 Bigg Boss Marathi 3 concludes its twelfth week with some interesting updates. Bigg Boss Marathi 3 eliminations witnessed eleven evictions so far and the last eviction was quite obvious. Santosh was the last Bigg Boss Marathi Season 3 contestant to be eliminated. Amidst all the drama, the online voting results for week 10 elimination indicate danger for Mira Jagannath and Gayatri Dadar.
An interesting twist took place as Meenal Shah becomes the first finalist of Bigg Boss Marathi 3. Multiple surprises await as Meenal is also the best contestant for this week in major voting polls. The voting results for the 12th week elimination indicate a tough road ahead for Gayatri Datar and Mira Jagannath.
Bigg Boss 3 Marathi nominations this week 12
Jay Dudhane
Sonali Patil
Mira Jagannath
Gayatri Datar
Utkarsh Shinde
Bigg Boss 3 Marathi Voting Trends week 12 Elimination Live Day 5 11th December
Gayatri Dadar – 16% votes
Utkarsh Shinde – 18% votes
Jay Dudhane – 23% votes
Sonali Patil – 29% votes
Mira Jagannath – 14% votes
Bigg Boss Marathi 3 Online Voting Result Today Live
Massive fights erupted in the Bigg Boss Marathi house as the tussle between Gayatri and Mira is imminent for safety. Gayatri Dadar became the last captain of the Bigg Boss Marathi 3 house amidst high drama. Utkarsh Shinde was trailing in the initial days while f
Sonali Patil is safe in this week's voting results results for Bigg Boss Marathi 3 week 12 elimination. However, Gayatri and Mira are in the bottom two of voting results. Mira Jagannath will be eliminated from Bigg Boss house this week due to the least votes.
How to vote for Bigg Boss Marathi Season 3 Nominated contestants?
Viewers of Bigg Boss Marathi 3 can cast their votes via Voot App to save their favourite contestants. The steps on how to vote for Bigg Boss Marathi 3 contestants via Voot App is given below.
Download the Voot App from the Play Store
Then register your account using email or Facebook ID
Once you are done, search for Bigg Boss Marathi 3 vote
Finally, vote for your favourite contestants by clicking the 'Vote Now' button.
Each individual can cast up to 99 votes per day.
You can also vote for your favourite Bigg Boss contestant on the Voot.com website by going to the Bigg Boss page and clicking on the 'Vote' section. Click on your favourite contestant to vote.
Also, Vote at The NewsCrunch unofficial voting poll to share your support for your favourite Bigg Boss Marathi 3 contestant.