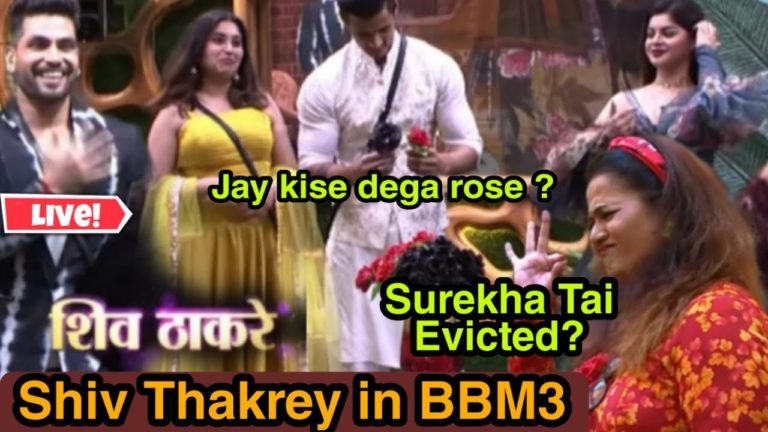 This week's Bigg Boss Marathi Season 3's Bigg Boss Marathi Chawdi featured two of the most popular Top Two contestants from the previous season of Bigg Boss Marathi. Who just won the hearts of Maharashtra. Bigg Boss Marathi Season 2 winner Shiv Thackeray and second place winner Neha Shitole came home. He opened the ears of the contestants. In addition, Rose Day was also celebrated. Sonali Patil was told by her fans what the members were saying against her through the gossip booth. Jay and Adish got to see the romantic dance. So, the contestants shared about the complaints they had about each other.
As we all know, the nomination process has started in the house of Bigg Boss, and it will be mandatory for one member to leave this house every week. Surekha Kudchi, Santosh Chaudhary (Dadus), Vishal Nikam, Tripti Desai, Vikas Patil, Sonali Patil, Meenal Shah, and Sneha Wagh were nominated in the process of leaving the house. The audience was interested to know which of these eight people would have to go out of the house today.
Finally, Sneha Wagh and Surekha Kudchi were in the danger zone, and Mahesh Manjrekar announced that Surekha Kudchi had to leave Bigg Boss Marathi's house this week. Trupti Desai, Sneha, Jay, and other members of the family were in tears. So who's going to be out next week? Who will be the new captain of the house? It will be interesting to see what tasks the members will get.
Surekha Kudchi said, "There is no one as bad as a man in this house as it happens due to circumstances. But, I was determined not to cry when I was eliminated. But there is something magical about this house. "Just as Mahesh Manjrekar gave special powers to Surekha, she made Trupti Desai the captain.
In the third season of Bigg Boss Marathi, Surekha Kudchi has fallen out of the house. Now, who will be nominated next week? Who will save the opinion of the audience? And who will go out of the house? It will be interesting to watch. Then definitely watch Bigg Boss Marathi Season 3 Mon to Sun at 9.330 pm. Only your colors in Marathi.