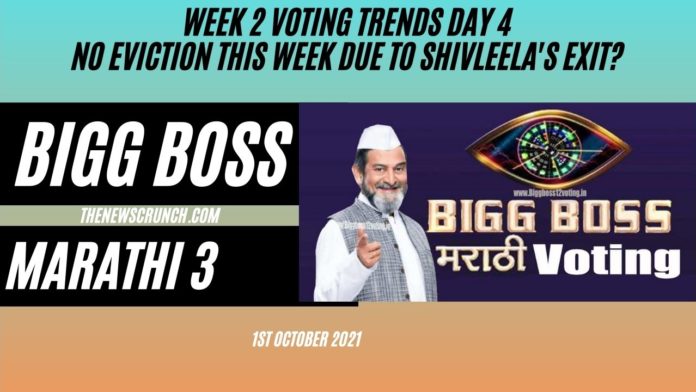 Bigg Boss Marathi 3 kicks off its campaign on a great note. The engaging tasks and power-packed contestants fought their way out through the torture task. However, the weekend elimination suspense looms large over the seven nominated contestants.
The voting results for Bigg Boss Marathi 3 witnessed an epic battle between the competitive contestants. The performances in the torture task also impressed the audience to a great extent. This in turn impacted the voting results for eviction this week in Bigg Boss Marathi 3.
Shivleela's medical condition prompted her early exit from Bigg Boss Marathi 3. However, Bigg Boss also ordered the closure of voting lines which means the elimination danger for other nominations might be revoked. There are chances that this nominations list will be extended for next week if no eviction takes place this week.
Bigg Boss Marathi 3 Nominations List Week 2 Elimination
Aavishkar Darwhekar
Shivleela Patil
Meenal Shah
Jay Dudhane
Gayatri Datar
Vishhal Nikam
Vikas Patil
Bigg Boss Marathi 3 Voting Trends and Elimination this week?
'Halla Bol' task performances impacted the voting trends by great means. However, Team A emerged as the winner of the task. Team B posted some impressive attempts but ended up on the losing note.
Jay Dudhane impressed the audience with a noteworthy performance. He rides on his social media following and Splitsvilla fan followers' support.
Sneha and Meenal Shah's fight earlier this week impacted the latter's voting results.
Shivleela exited the Bigg Boss house due to medical reasons, hence there are low chances of eviction this weekend.
Bigg Boss Marathi Season 3 Online Voting through Voot
Bigg Boss Marathi 3 voting process on Voot involves logging into the app through email/Facebook.
The viewers are required to search for the Bigg Boss Marathi 3 episode of a particular day and click on the vote option that can be seen below the episode video.
Among the seven contestants nominated for elimination this week, you can vote for your favorite contestant(s) and cast your vote.
Every user will be given 99 votes per day, either cast for one contestant or split among multiple contestants.