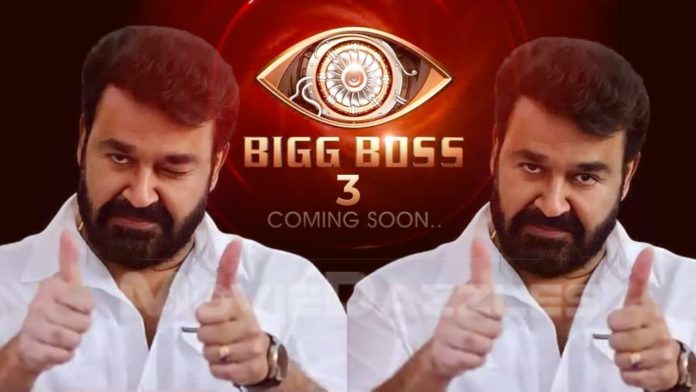 Bigg Boss is the biggest popular reality show in India. The show started in Hindi and later spread to various languages ​​in India. The Bigg Boss reality show was a huge success in all languages. Bigg Boss was recently launched in Malayalam. Now entering its third season, Bigg Boss season 3, to premiere soon with Mohanlal as host.
After a short hiatus, Bigg Boss Season 3 is about to begin. Mohanlal himself will be the host of the show this time as well. Season 2 was put on hold due to the lockdown. Audiences are eagerly waiting for Season 3.
Actor Tovino Thomas released the logo of Bigg Boss Season 3 during the announcement of Star Singer Season 8. New promo videos of Bigg Boss are also starting to appear. Mohanlal himself appears in a video that went viral on social media. Season 2 was stopped abruptly halfway due to a pandemic situation.
A new piece of information about Bigg Boss Season 3 is going viral on social media. There were reports that Bigg Boss Season 3 is set to begin in mid-February. But now, the show is set to begin in March 2021. Exact information about this is not yet available.
Bigg Boss is a completely secretive show. From the selection of contestants to the show to the end, things go very secretively. This secretive nature is what makes Bigg Boss special. The show has many unexpected tasks and events. Discussions about the contestants are raging on social media. The names of the audience's favorite stars are heard loud and clear. But only when the show starts will it be possible to know who will be on the show.
There are rumors that film stars Noby Marcose, RJ Kidilam Firoz, and Dhanyanath will be in the show. This was revealed by a blogger named Sarath through his blog Muppens. He says in the video that he is 100% sure. He also says that this season will not start with 20 people like last season, and the contestants will reach the show in two batches.
The video says that one batch's quarantine has started, and the next batch will arrive early next month. But Sarath said in the video that the Bigg Boss reality show would start before 20. The audience is eagerly waiting for the official announcement.