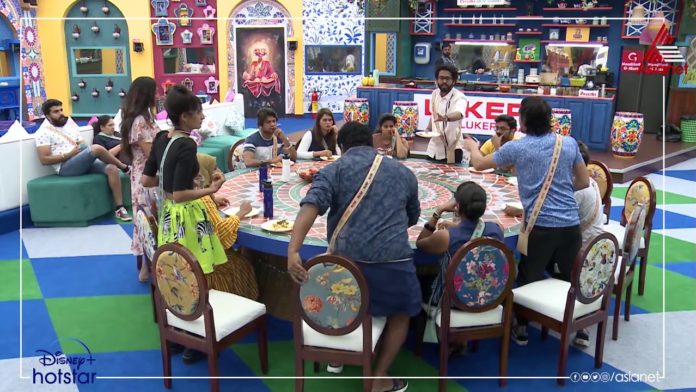 The peaceful atmosphere at the Bigg Boss Malayalam 3 house has changed. Contestants arguing over food. Anoop Krishnan forgets his surroundings and explodes in yesterday's episode. Fights and arguments are a common sight. Eventful episodes are coming starting from today, 23rd February 2021.
Television audiences are watching Bigg Boss Malayalam Season 3 with a lot of interest. Season 2 ended abruptly due to COVID 19. It was reported that the next season would start soon. Everyone wanted to know who the contestants would be. Those who became familiar to the audience and those who were not familiar have come to season 3. Three more contestants arrived through the wild card entry over the weekend.
The atmosphere of peace in Bigg Boss changed with the arrival of Michelle. Michelle was skeptical of the reality of the story Dimple Bhal told about her friend. When asked about this, Dimple became emotional. A promo video has been released showing that Bigg Boss is a scene where fights and arguments constantly change one after the other.
The new promo features a fight at the dining table. Lakshmi started the conversation by saying that cooking is not like sweeping or cleaning. The video also shows Adoni and Ramzan arguing over Lakshmi's dislike. Ramzan said that this involves everyone and should not be taken out of one's hand.
Adoni approached Lakshmi and asked her who had gone missing. Lakshmi replied that there should be no play on her body. Others took up the quarrel. Arguments often start with food and duty. Lakshmi had said the other day that she had physical problems. Captain Surya said she could have removed Lakshmi from the cleaning duty.
The video also shows Anoop Krishnan, who is generally considered to be calm, exploding. Lakshmi said I; could. This is what happened yesterday. Anoop was blasting Ritu by telling her not to get in between when someone is arguing or fighting. Ritu said she was the one who got under pressure and caused the fight. Ramzan has been on the upswing for a long time. Ramzan was outraged that he had been polite for so long.