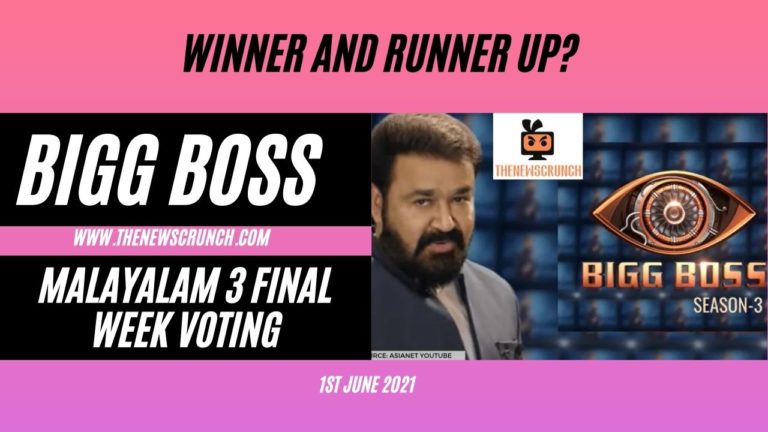 Bigg Boss Malayalam 3 will witness the crowning of the 'title winner' in a few hours. The final week voting window closed earlier this weekend. The suspense around the winner of Bigg Boss Malayalam 3 looms large as the audience eagerly awaits the official announcement. The voting results indicate a stunning victory for Manikuttan and a potential runner-up position for Sai Vishnu.
Bigg Boss Malayalam 3 ended abruptly, thanks to the Covid-19 lockdown. However, the makers of Bigg Boss Malayalam 3 wanted to ensure that the show receives closure. The audience engaged on a daily basis to vote for their favorite contestant. Eight contestants who were in the Bigg Boss house were declared finalists. However, the advantage was with the most popular contestants.
Bigg Boss Malayalam 3 was quite sensational compared to the previous seasons. Some contestants like Manikuttan, Dimple Bhal and Sai Vishnu connected well with the audience. Even though the telecast was stopped, the impact of Manikuttan loomed large.
Bigg Boss Malayalam 3 Final Voting Results for Winner / Runner-Up
Manikuttan – 35% Vote share
Kidilam Firoz – 8% Vote share
Anoop – 6% Vote share
Dimple Bhal – 14% Vote share
Rithu Manthra – 5% Vote share
Sai Vishnu – 24% Vote share
Noby – 3% Vote share
Ramzan – 5% Vote share
Bigg Boss Malayalam 3 Final Week Voting – Winner Predictions
From the first day of voting, Manikuttan steered clear from the rest of the finalists. A spectacular lead helped him to ensure he is the winner of Bigg Boss Malayalam 3.
There was an intense fight between Sai Vishnu and Dimple Bhal for the runner-up position. However, Sai Vishnu emerged on top of the battle.
Dimple Bhal's exit and return affected her popularity vote results to a significant extent.
The competition from the rest of the finalists was quite insignificant. However, Ramzan and Kidilam Firoz failed to make an impact.
Anoop and Ramzan's decent run in the ticket to finale tasks failed to create an impact in the minds of the audience.
The results indicate that the audience voted for genuine contestants irrespective of their task performances.