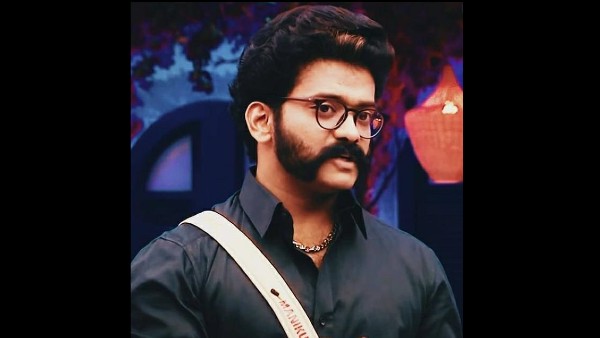 The prospective Bigg Boss Malayalam Season 3 winner, Manikuttan left the Bigg Boss house. Popular actor and the most popular contestant of this season, Manikuttan was a people's champion. He was commendable in his commitment, values of friendship and performances in tasks. Manikuttan gained the trust of the audience and amassed huge popularity through his tenure in the show.
However, the most unexpected incident took place in the house. Manikuttan was eager to talk to Bigg Boss through the confession room. Finally, Manikuttan received a call into the confession room. Sadly, Manikuttan decided to quit the coveted show due to personal reasons. Bigg Boss announced the same to the rest of the housemates in the living room. A shocked house failed to come to terms with Manikuttan's decision.
Soorya and Dimple were in tears as they failed to understand his decision. His foe in the house, Firoskhan also failed to come to terms with his competitor's decision. There are several speculations arising after Manikuttan's exit. A few sources indicate that Manikuttan was spotted in the airport after his eviction.
However, some of the reports suggest that there is a plot twist with Manikuttan's voluntary exit. There is a secret room possibility or a potential twist in Manikuttan's sudden exit. With the exit of Sajna and Firoz, the show looked bleak in terms of TRP. However, the recent fights and Firoskhan's antics kept the show alive. It would be interesting to see if Manikuttan's exit results in a drop in popularity for the show.
Wrong decision by manikuttan. Hope he comes.

— sudheesh (@sudheesh1444) April 26, 2021
ഒരൊറ്റ പ്രോമോ കൊണ്ട് എല്ലാവരെയും ഞെട്ടിച്ചെങ്കിൽ, വരാൻപോകുന്ന ഒരു എപിസോഡ് ഇത്രയ്ക്ക് ചർച്ച ആയെങ്കിൽ. #manikuttan തന്നെ ആണ് #BiggBossMalayalalam -ൽ ഇപ്പോൾ ഏറ്റവും സ്വാധീനം ഉള്ള ആൾ.#BiggBossMalayalam3 #BiggBoss #BBM3

— Bigg Boss Malayalam Season 3 (@BiggBossMal) April 26, 2021
ഒരാൾ എത്ര ഗംഭീരമായി ടാസ്ക് ചെയ്താലും മാസ്സ് കാണിച്ചാലും അയാൾക്ക് ബിഗ്ബോസ്സ് വിജയി ആകാൻ പറ്റില്ല.ഇത് വ്യക്തിത്ത്വത്തിനും മെന്റ്റൽ സ്ട്രെന്തിനും മുൻഗണന കൊടുക്കുന്ന ഷോ ആണ്.അങ്ങനെ നോക്കിയാൽ ഈ വർഷത്തെ ടൈറ്റിൽ വിന്നർ സൂര്യ ആയിരിക്കും 😎❤#BiggBossMalayalam3

— Sandhya (@sandhya_srivas) April 26, 2021