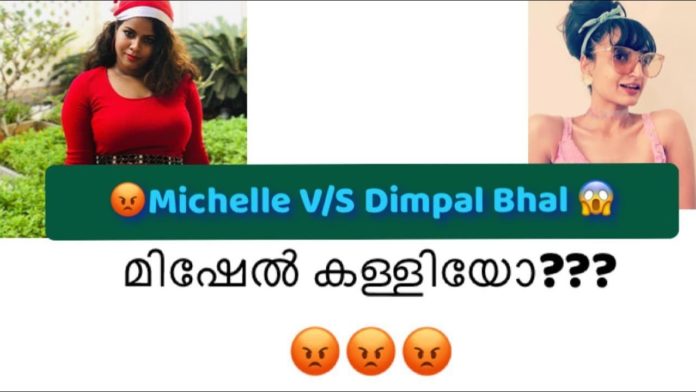 Michelle, one of the wild card entries in Bigg Boss Malayalam Season 3, came in with a grenade in her hand. On the first day, Michelle started her fight with Dimpal, a strong contestant in Bigg Boss. With this, Bigg Boss witnessed eventful scenes. The war of words between the two turned into a big explosion.
Dimpal, who arrived at Bigg Boss, told the audience about her best friend Juliet's death, which caught the eye of the audience and contestants. But Michelle came to Bigg Boss questioning the story itself. Dimpal then burst into tears and came on the scene against Michelle. Emotional scenes followed.
The Bigg Boss house witnessed a scuffle between Michelle and Dimpal yesterday. Michelle said she had a suspicion and asked for it. But Dimpal refused to talk to Michelle. Talk to you soon and keep up the good content; Dimpal said, let's get out of Bigg Boss and discuss this issue.
"I've seen a lot of people like you," Dimpal said. But Michelle said she has known Dimpal for four years and is a friend, which is why this story is hard to believe. Michelle said we've seen a lot outside and talked a lot. Michelle said she has evidence against Dimpal.
But Dimpal said she would stick to it if there were such evidence. When Michelle said she had known Dimpal for four years, Dimpal said that she had only seen her behind the scenes and knew Ritu in that sense.
Dimpal asked if Michelle has hr number and has talked for too long. Dimpal reiterated that she was like that and only acquainted with the show and not a friend. The dispute erupted when Dimpal walked out of front of Michelle.
We at TheNewsCrunch have earlier done a fact check on Dimpal's story, and it was confirmed to be true by Dimpal's friend Juliet's parents. In this case, the accusation against Dimpal seemed to be false, and that's the main reason she is gaining the vote and leading the voting results in this week's nomination.
Whom do you support? Dimpal or Michelle, vote below:
[poll id="10″]