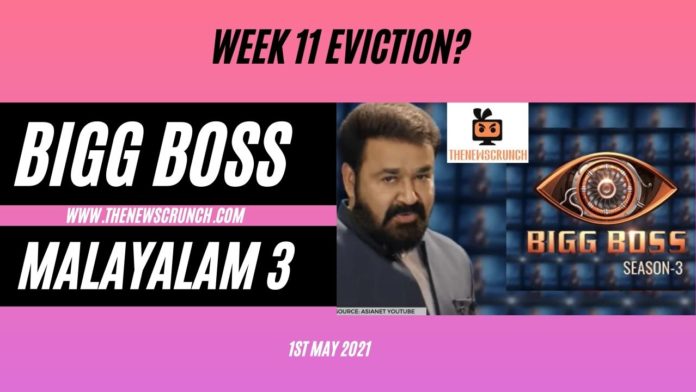 Bigg Boss Malayalam 3 will complete an emotional eleventh week this weekend. The weekend episodes will be a guaranteed entertainer as Mohanlal discusses the proceedings of the week. The major highlight will be the announcement of the ninth elimination of Bigg Boss Malayalam 3.
Six contestants entered the nominations for eviction in week 11 of Bigg Boss Malayalam 3. However, the performances during the 'Coin collection task' and subsequent incidents about the state of the house impacted the voting results by great means. Eight eliminations took place so far but the ninth eviction will be a decisive one. Incidentally, all the evicted housemates so far are female contestants except Sajna and Firoz.
The voting results in battle were quite dodgy until the final day in this week's voting situation. Two contestants were trailing by a considerable margin from day 1. Also, the performances in the fiery task were inconclusive to the audience. Hence, Soorya and Adoney were subjected to danger and Anoop joined the group.
There was a lot of friction in the house this week with the desperation to stay. However, the elimination of Dimple to attend her father's funeral might impact the eviction plans for this week.
Adoney is the likely eviction of week 10 in Bigg Boss Malayalam 3. Soorya is also losing his popularity and struggled in the bottom two of the voting results.
Bigg Boss Malayalam 3 Worst Performers of Week 11
Bigg Boss Malayalam 3 Best Performers of Week 11
Kidilam Firoz
Sai Vishnu
Ramzan
Bigg Boss Malayalam 3 Evicted Contestants
Lakshmi Jayan (Week 2)
Michelle Ann (Week 3)
Angel Thomas (Week 4)
Remya Panicker (Week 5)
Majiziya Bhanu (Week 6)
Bhagyalakshmi (Week 7)
Sajna and Firoz (Week 8)
No Eviction (Week 9)
Sandhya Manoj (Week 10)