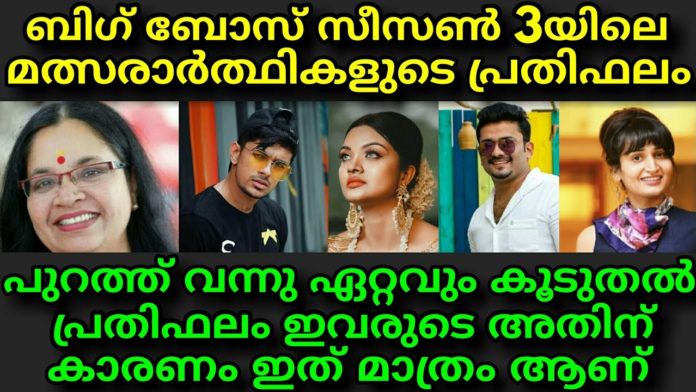 Bigg Boss Malayalam season 3 has started on February 14, 2021. It is clear from the discussions on social media that it is more popular than the first two seasons. There were very few people on the show who were previously predicted by fans. The rest are all newcomers.
However, in terms of performance, everyone is standing firm. It is not possible to say at once who is the best. Meanwhile, there was a prediction of how much the contestants' salary would be. Finally, some new reports have arrived. Read in detail.
Nobby Marcos, Dimpal Bhal, Kidilam Firoz, Lakshmi Jayan, Manikuttan, Surya Menon, Sai Vishnu, Ritu Mantra, Adoni John, Sandhya Manoj. Fourteen contestants from various fields, including Anoop Krishnan, Majiziya Bhanu, Ramzan Mohammad, and Bhagyalakshmi, are contesting this season. Some will get evicted in the next few days, and others will enter through the wild card entry. Everyone was able to impress the audience with the performance of the first two days.
Actor Manikuttan is number one in terms of popularity and remuneration. According to reports, the actor earns Rs 50,000 a week. There are indications that this is the largest amount this season. Second place went to Nobby Marcos. Nobby gets Rs 40,000, serial actor Anoop Krishnan and dubbing artist Bhagyalakshmi get the same salary.
At the same time, the rest are reported to be getting Rs 30,000 each week. From the beginning of the show, fans have been waiting to know how much the stars will be paid. Official information has not yet been released. At the same time, it was first reported that presenter Mohanlal's salary had been increased this time. Mohanlal received Rs 12 crore last season.
According to some reports circulating on Twitter, Mohanlal will get Rs 18 crore by the end of season 3. But even this is not clear. Hosts of Bigg Boss Malayalam, as well as other languages, ​​will be rewarded twice each season.