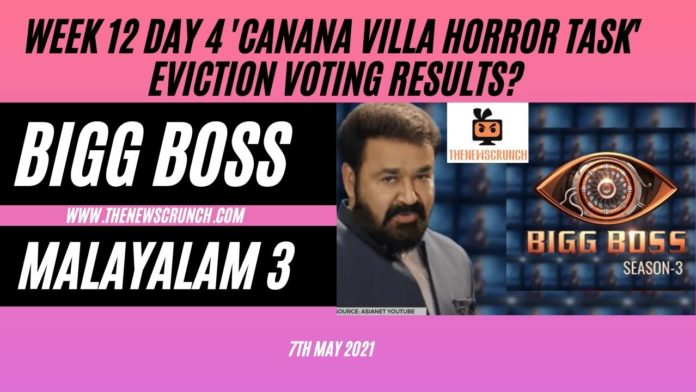 Bigg Boss Malayalam Season 3 enters a terrifying twelfth week. The entertaining reality show evicted nine of its contestants so far. Six contestants entered the nominations list for eliminations in week 12 of Bigg Boss Malayalam Season 3. Attorney John, Sandhya Manoj, Sajna/Firoz, Bhagyalakshmi, Majiziya Bhanu, Lakshmi Jayan, and wildcard entrants Michelle Ann, Remya Panicker, and Angel Thomas were the contestants who got evicted so far.
'Canana Villa Horror Task' continues for the 81st day at Bigg Boss House. With the help of his partner Ramzan, Manikuttan's character continues to commit murders. Ritu and Surya, who came as a policeman, were also questioned involving ghosts but they had not been able to find the killer in the past day.
On the elimination front, Bigg Boss might throw suspense with no eviction announcement. However, the focus is on the best performers of this week. Noby and Kidilam Firoz are safe from eviction nominations this week. However, after four consecutive weeks of nominations, Sai Vishnu is a strong prospect to enter the finals. Anoop needs to prove himself with performances as a captain with yet another safe pass this weekend.
The drama engulfing this week's horror task and evolved game strategies after Dimple Bhal's exit are impacting the voting results by considerable means. Remya and Ramzan are lurking around in the last two and Manikuttan's safety seems to be a huge positive for his prospects this week.
Bigg Boss Malayalam 3 Voting Results Week 12 Eviction – 6th May 2021
Rithu Manthra – 16% vote share (80,212 votes)
Ramzan – 14% vote share (70,111 votes)
Remya Panicker – 10% vote share (50,112 votes)
Soorya – 16% vote share (80,235 votes)
Sai Vishnu – 21% vote share (105,714 votes)
Manikuttan – 23% vote share (115,602 votes)
Bigg Boss 3 Malayalam Nominated Contestants Week 12
Ramzan
Sai Vishnu
Manikuttan
Soorya Menon
Rithu Manthra
Remya Panicker
Bigg Boss 3 Malayalam Eviction Week 12 Voting Trends and Analysis
The horror task was the major highlight of this week. Only two contestants apart from the captain were spared from nominations this week. However, there was one direction nomination this week.
Ramzan is performing well in the current task. However, he slipped into the bottom two at a crucial time in the voting results.
There is a lot of enthusiasm about Manikuttan's performance this week. However, this is also helping Soorya grasp her claws to safety.
Rithu Manthra plays the role of the cop who is yet to solve the case.
Soorya basks in the glory of Manikuttan as expected. This puts Remya in immense risk of eviction this week.
Sai Vishnu is making gradual progress this week after Manikuttan entered the nomination voting.
Anoop's captaincy will be crucial to govern his prospects for next week.
Remya is in the bottom two but it is clear one of the three women contestants will be shown the door this weekend.
Noby's safety is drawing a huge question in the minds of the audience this week. However, the lack of competition in the house is drawing social media arguments.
Captain Anoop was safe from nominations this week. 
Who Will Be Safe From Eviction This Week?
According to reports, Manikuttan is likely to be safe this week.
Who Will Be in Danger of Eviction This Week?
According to reports, Ramzan or Remya are likely to be evicted this week.
Bigg Boss Malayalam 3 Evicted Contestants
Lakshmi Jayan (Week 2)
Michelle Ann (Week 3)
Angel Thomas (Week 4)
Remya Panicker (Week 5)
Majiziya Bhanu (Week 6)
Bhagyalakshmi (Week 7)
Sajna and Firoz (Week 8)
No Eviction (Week 9)
Sandhya Manoj (Week 10)
Adoney John (Week 11)