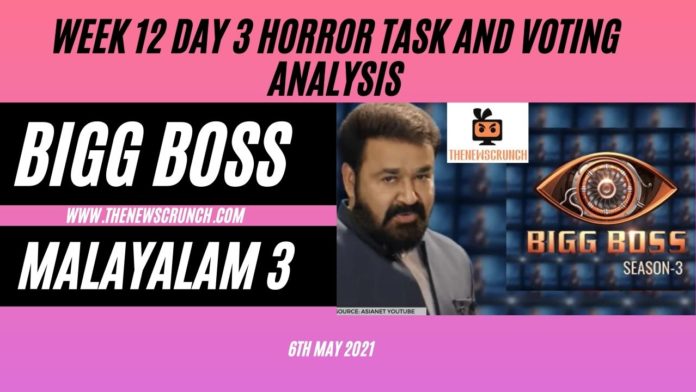 Bigg Boss Malayalam Season 3 enters a horror-filled twelfth week. The entertaining reality show evicted nine of its contestants so far. Six contestants entered the nominations list for eliminations in week 12 of Bigg Boss Malayalam Season 3. Attorney John, Sandhya Manoj, Sajna/Firoz, Bhagyalakshmi, Majiziya Bhanu, Lakshmi Jayan, and wildcard entrants Michelle Ann, Remya Panicker, and Angel Thomas were the contestants who got evicted so far.
There are high chances of Bigg Boss skipping eviction this week. However, the limelight is on the performances and entertainment factor in the new weekly task. Noby and Kidilam Firoz enjoy the luxury of safety this week. However, after four consecutive weeks of nominations, Sai Vishnu holds strong in the race to the finals. Soorya needs to prove herself with performances in tasks with yet another nomination this weekend.
The drama engulfing this week's Bhargavi Nilayam task and new strategies after Dimple Bhal's exit are impacting the voting results by considerable means. Remya and Rithu Manthra are lurking around in the bottom two and Manikuttan's safety seems to be a huge positive for his prospects this week.
Bigg Boss Malayalam 3 Voting Results Week 12 Eviction – 5th May 2021
Rithu Manthra – 13% vote share (39,502 votes)
Ramzan – 19% vote share (57,201 votes)
Remya Panicker – 11% vote share (33,254 votes)
Soorya – 15% vote share (45,552 votes)
Sai Vishnu – 20% vote share (60,956 votes)
Manikuttan – 22% vote share (66,233 votes)
Bigg Boss 3 Malayalam Nominated Contestants Week 12
Ramzan
Sai Vishnu
Manikuttan
Soorya Menon
Rithu Manthra
Remya Panicker
Bigg Boss 3 Malayalam Eviction Week 12 Voting Trends and Analysis
The closed-door nomination task and the horror task were the major highlights of this week. Only two contestants apart from the captain were spared from nominations this week. However, there was one direction nomination this week.
There is consolidation in vote share among the top three contestants. However, the real fight is in the bottom half of the list.
The horror task's performances will play a critical role in the fate of the nominations. It is quite difficult to decide the worst performer for this week.
Soorya needs to get out of Manikuttan's shadow to be visible as a performer. However, her support is quite extensive in the first half of the week.
Sai Vishnu's resilience is appreciated. The young contestant is fighting the odds for a place in the finals. However, will he succeed in achieving it?
Manikuttan will continue to dominate the voting results by a slender margin. However, his banter with Bigg Boss was a real delight to watch.
Rithu is in the bottom two but it is clear one of the three female contestants will be shown the door this weekend.
Noby's safety is drawing a huge question in the minds of the audience this week. However, his performance will be critical for his tenure in the house.
Captain Anoop was safe from nominations this week. 
Who Will Be Safe From Eviction This Week?
According to reports, Manikuttan is likely to be safe this week.
Who Will Be in Danger of Eviction This Week?
According to reports, Rithu or Remya are likely to be evicted this week.
Bigg Boss Malayalam 3 Evicted Contestants
Lakshmi Jayan (Week 2)
Michelle Ann (Week 3)
Angel Thomas (Week 4)
Remya Panicker (Week 5)
Majiziya Bhanu (Week 6)
Bhagyalakshmi (Week 7)
Sajna and Firoz (Week 8)
No Eviction (Week 9)
Sandhya Manoj (Week 10)
Adoney John (Week 11)