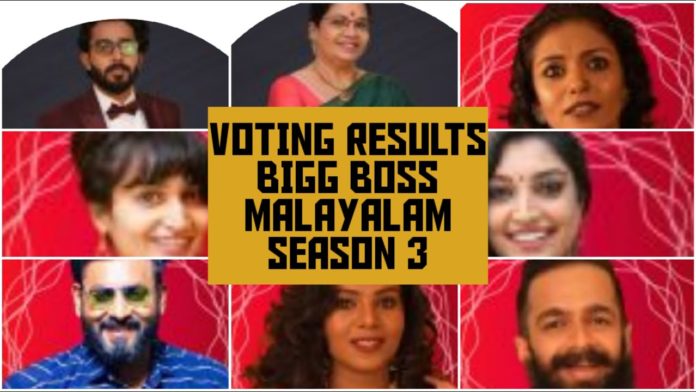 Bigg Boss Malayalam Season 3 is setting the standards high with an eventful third week. Seven contestants were nominated for eliminations in week 3 of Bigg Boss Malayalam 3. One elimination took place so far and two wildcard entries, Remya Panicker and Angel were inducted into the house this week. A major twist was witnessed in this week's nomination task which brought Michelle Ann, Bhagyalakshmi, and Anoop Krishnan into the eviction nominations list for week 3.
The "Ponnu Vilayum Mannu" task performances, Michelle and Dimple fight are impacting the voting results by considerable means. Bhagyalakshmi and Michelle Ann are lurking around in the bottom two and Dimple's popularity seems to be a huge positive for her prospects this week.
Bigg Boss Malayalam 3 Voting Results Week 3 Eviction – 2nd March 2021
Soorya Menon – 21% vote share (42,321 votes)
Sajna and Firoz – 10% vote share (20,717 votes)
Michelle Ann – 7% vote share (14,636 votes)
Anoop Krishnan – 14% vote share (28,933 votes)
Dimpal Bhal – 28% vote share (56,110 votes)
Sai Vishnu – 11% vote share (22,445 votes)
Bhagyalakshmi – 9% vote share (18,153 votes)
Bigg Boss 3 Malayalam Nominated Contestants Week 3
Dimple Bhal
Soorya Menon
Bhagyalakshmi
Sai Vishnu
Anoop Krishnan
Sajna and Firoz
Michelle Ann


Bigg Boss 3 Malayalam Eviction Week 3 Voting Trends and Analysis

The closed room nomination task and fights between Firoz Khan and RJ Firoz was the major highlight of this week. The two new wildcard entrants were not nominated this week. The brilliance of this season has been the dynamic relationships sprouting each day.

The fight between RJ Firoz and Firoz Khan impacted the voting results of Firoz and Sajna as they entered the bottom three.
Firoz altercated with Remya Panicker, the wildcard entrant which might impact his credibility further during this week.
Ramzan's flexible body and amazing performances is keeping him safe from nominations in Bigg Boss Malayalam 3.
Dimple Bhal is dominating the voting results of week 3 and her popularity is surging by the day. However, she continues to be the most hated contestant in the house
Soorya Menon was nominated because of her captaincy issues. However, the audience loves her enough to keep her at the top of the voting results table.
Sai Vishnu is nominated for the second time in a row. However, he is safe as of day 2.
Sajna and Firoz were nominated for the Dimple Bhal fiasco and it is likely that the wildcard entry will end up in the bottom three of the voting results.

Captain Manikutta and wildcard entrants Remya, Angel were safe from nominations this week. 

Who Will Be Safe From Eviction This Week?

According to reports, Dimple Bhal and Soorya Menon are likely to be safe this week.

Who Will Be in Danger of Eviction This Week?

According to reports, Bhagyalakshmi or Michelle Ann are likely to be evicted this week.