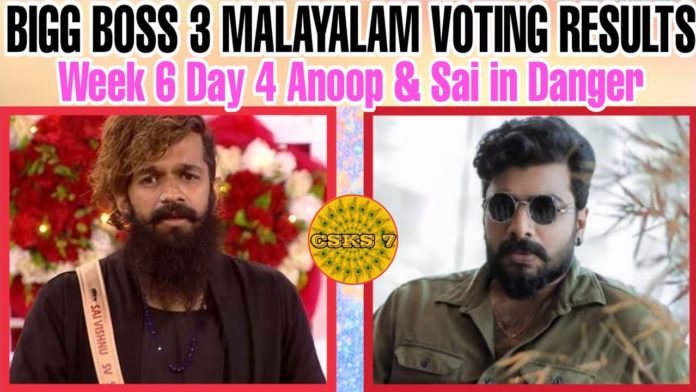 Bigg Boss Malayalam Season 3 reaches the fag end of an electrifying sixth week. The reality show evicted four of its contestants so far. Six contestants entered the nominations list for eliminations in week 6 of Bigg Boss Malayalam Season 3. Lakshmi Jayan and wildcard entrants Michelle Ann, Remya Panicker, and Angel Thomas were the contestants who got evicted so far.
Bigg Boss Malayalam Season 3 nominations task set the tone for the rest of the week's drama while the 'Tube Task' turned awry. Dimple Bhal stays strong on top of the voting results but the fights during the task impacted her voting results. Soorya reentered the nominations after a week's break. Three contestants are in contention for eviction this week.
The drama surrounding this week's ball-catching task and associated arguments is impacting the voting results by considerable means. Majiziya and Anoop are lurking around in the bottom two and Dimple's safety seems to be a huge positive for her prospects this week. However, there are four contestants facing the heat of eviction this week.
Bigg Boss Malayalam 3 Voting Results Week 6 Eviction – 25th March 2021
Dimple Bhal – 21% vote share (84,115 votes)
Sajna and Firoz – 18% vote share (72,200 votes)
Anoop – 15% vote share (60,112 votes)
Sai Vishnu – 16% vote share (64,552 votes)
Soorya – 17% vote share (68,103 votes)
Majiziya Bhanu – 14% vote share (56,963 votes)
Bigg Boss 3 Malayalam Nominated Contestants Week 6
Dimple Bhal
Majiziya Bhanu
Soorya Menon
Sajna and Firoz
Sai Vishnu
Anoop Krishnan
Bigg Boss 3 Malayalam Eviction Week 6 Voting Trends and Analysis
The ferocious ball-catching task was the major highlight of this week. The performance in the first two rounds ended up with a fight-ridden third round.
The fights between Dimple Bhal and Rithu Manthra were the highlights of Thursday's episode. Adoney and Sandhiya fought too.
The fight between Sandhiya and Adoney will be remembered for a long time as Sandhiya might enter the nominations for the first time next week.
Sooriya was pulled and ferociously thrown down by Dimpal. However, Majiziya confronted Rithu which created a ruckus.
Anoop stands to gain from the turmoil inside the Bigg Boss house as a consequence of the 'Tube Task'.
Majiziya failed to impress the audience and her arrogance was significant. It would be interesting to see if the audience will give her another week.
Sai Vishnu is in the safe zone by a slender margin.
Manikuttan continues to gain the support of the audience amidst the fights in the house.
Dimple Bhal leads and will be safe this week too.
Soorya, Noby, and Majiziya failed to impress in the ball-catching task.
Majiziya might be saved if Dimple's fans start voting for her. It might be interesting to see if it happens in the last two days of voting.
Captain Kidilam Firoz was safe from nominations this week. 
Who Will Be Safe From Eviction This Week?
According to reports, Dimple Bhal and Sajna/Firoz are likely to be safe this week.
Who Will Be in Danger of Eviction This Week?
According to reports, Anoop, Sai Vishnu, or Majiziya is likely to be evicted this week.
Bigg Boss Malayalam 3 Evicted Contestants
Lakshmi Jayan (Week 2)
Michelle Ann (Week 3)
Angel Thomas (Week 4)
Remya Panicker (Week 5)
Vote to save your favourite contestant