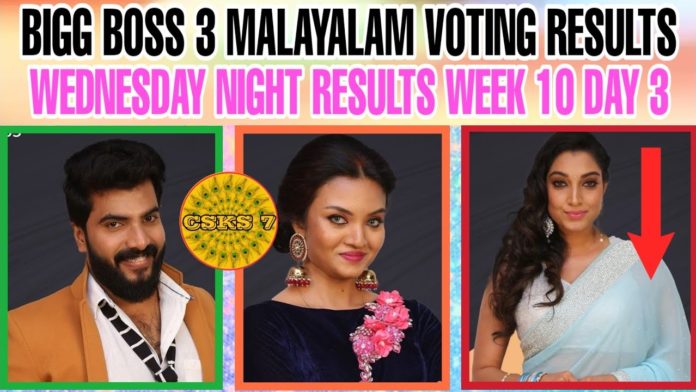 Bigg Boss Malayalam Season 3 is in the middle of a hot tenth week. Bigg Boss evicted seven of its contestants so far. Six contestants entered the nominations list for eliminations in week 7 of Bigg Boss Malayalam Season 3. Sajna/Firoz, Bhagyalakshmi, Majiziya Bhanu, Lakshmi Jayan, and wildcard entrants Michelle Ann, Remya Panicker, and Angel Thomas were the contestants who got evicted so far.
Bigg Boss Malayalam Season 3 Nattukootam task and open nominations plan for eliminations this week witnessed subsequent fights in the house. Kidilam Firoz opens his fiery side as fights haunt the Bigg Boss house. However, Anoop and Dimple are battling an elimination too apart from Firoz's plot. A spectacular twist in the elimination battle is awaited during the course of the tenth week.
The drama surrounding this week's open nominations and fight following the Nattukootam task is impacting the voting results by considerable means. Sandhya and Soorya Menon are lurking around in the bottom two and Sai Vishnu's safety seems to be a huge positive for her prospects this week.
Bigg Boss Malayalam 3 Voting Results Week 10 Eviction – 21st March 2021
Anoop – 17% vote share (51,025 votes)
Rithu Manthra – 17% vote share (51,252 votes)
Dimple Bhal – 20% vote share (60,525 votes)
Soorya – 15% vote share (45,714 votes)
Sai Vishnu – 19% vote share (57,333 votes)
Sandhya – 13% vote share (39,125 votes)
Bigg Boss 3 Malayalam Nominated Contestants Week 10
Anoop
Dimple Bhal
Rithu Manthra
Sai Vishnu
Soorya Menon
Sandhya Manoj
Bigg Boss 3 Malayalam Eviction Week 10 Voting Trends and Analysis
The Nattukottam task was the major highlight of this week. Four contestants were safe from nominations this week. However, there were no direct nominations this last week.
It is raining arguments in the Bigg Boss house as Kidilam Firoz opens his bag of cards.
Feroz's malicious and duplicitous strategy of pitting people against each other has begun to be understood by others, and a good percentage of contestants have begun to point fingers at Feroz and raise questions.
Soorya's rollercoaster ride from the top two to the bottom shows the intense competition among the nominated contestants.
Rithu Manthra's caste remark is biting her popularity by considerable means. There are cries to evict her similar to Sajna and Firoz. This will pull out the steam from the eviction suspense for this week.
Sai Vishnu surges ahead as Dimple's vote share is dwindling by the day. It is no longer a phenomenon that Dimple will dominate the voting results.
Manikuttan and Soorya's saga continues to haunt the duo as Firoz spits fire. However, the latter is hurt more by the drama surrounding the same.
Sandhya fails to get a respite from the danger of eviction this week.
Captain Adoney, Manikuttan, Kidilan Firoz, and Ramzan were safe from nominations this week. 
Who Will Be Safe From Eviction This Week?
According to reports, Dimple Bhal and Sai Vishnu are likely to be safe this week.
Who Will Be in Danger of Eviction This Week?
According to reports, Soorya or Sandhya are likely to be evicted this week.
Bigg Boss Malayalam 3 Evicted Contestants
Lakshmi Jayan (Week 2)
Michelle Ann (Week 3)
Angel Thomas (Week 4)
Remya Panicker (Week 5)
Majiziya Bhanu (Week 6)
Bhagyalakshmi (Week 7)
Sajna and Firoz (Week 8)
No Eviction (Week 9)
Vote to save your favourite contestant