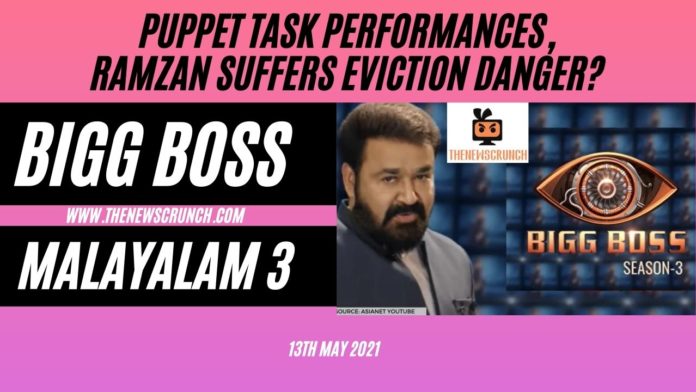 Bigg Boss Malayalam Season 3 enters a fiery thirteenth week. The sensational show evicted nine of its contestants so far. The nominations list for week 13 features the same six contestants from week 12 of Bigg Boss Malayalam Season 3. The quest for safety against elimination for the nominated contestants extends until this weekend as the voting lines close.
Adoney John, Sandhya Manoj, Sajna/Firoz, Bhagyalakshmi, Majiziya Bhanu, Lakshmi Jayan, and wildcard entrants Michelle Ann, Remya Panicker, and Angel Thomas were the contestants who got evicted so far. Ramzan's dream run in Bigg Boss Malaylam 3 is in danger after his fight with Manikuttan.
Though there was no eviction last week, the voting lines were extended for the same nominations until this weekend. Hence, Bigg Boss Malayalam Season 3 did not have a nominations task this week. However, the extension of the show by two weeks opens up the plot for a fiery week.
The drama surrounding this week's puppet task and major arguments are impacting the voting results by considerable means. Remya and Ramzan are lurking around in the bottom two and Sai Vishnu's safety seems to be a huge positive for his prospects this week.
Bigg Boss Malayalam 3 Voting Results Week 13 Eviction – 12th May 2021
Rithu – 16% vote share (160,236 votes)
Ramzan – 12% vote share (120,217 votes)
Remya Panicker – 12% vote share (120,025 votes)
Soorya – 15% vote share (150,256 votes)
Sai Vishnu – 19% vote share (190,988 votes)
Manikuttan – 24% vote share (244,336 votes)
Bigg Boss 3 Malayalam Nominated Contestants Week 13
Ramzan
Sai Vishnu
Manikuttan
Soorya Menon
Rithu Manthra
Remya Panicker
Bigg Boss 3 Malayalam Eviction Week 13 Voting Trends and Analysis
The puppet task and arguments were the major highlights of this week. There is a high chance of direct nomination for the next week of eviction.
The fight between Manikuttan and Ramzan impacted the latter's voting results. As a result, Ramzan's popularity plunged into the bottom two.
Soorya gained a massive vote share after Manikuttan's return. She continues to grab coverage with the love track.
Kidilam Firoz's accusation that Manikuttan went mad and ran away from the house drew harsh criticism on social media. This is affecting Ramzan's future as well.
Ramzan was a strong contender to enter the finals but his negative image and susceptibility to Kidilam Firoz's brainwashing will prove him costly.
Sai Vishnu understood Kidilam Firoz's strategy of using pawns like Bhagyalakshmi, Michelle, Sandhya, and now Ramzan to fuel his strategy. However, the audience is clear about their thoughts.
There is a lot of banter on social media about the future of Manikuttan. However, the issue of mental health received massive coverage due to these incidents.
Rithu Manthra is playing safe this week. However, the current results could turn around at any point in time.
The puppet role-play task performances will be crucial but the audience doesn't have enough time to vote this week.
Captain Anoop was safe from nominations this week. 
Who Will Be Safe From Eviction This Week?
According to reports, Manikuttan likely to be safe this week.
Who Will Be in Danger of Eviction This Week?
According to reports, Remya or Soorya are likely to be evicted this week.
Bigg Boss Malayalam 3 Evicted Contestants
Lakshmi Jayan (Week 2)
Michelle Ann (Week 3)
Angel Thomas (Week 4)
Remya Panicker (Week 5)
Majiziya Bhanu (Week 6)
Bhagyalakshmi (Week 7)
Sajna and Firoz (Week 8)
No Eviction (Week 9)
Sandhya Manoj (Week 10)
Adoney John (Week 11)