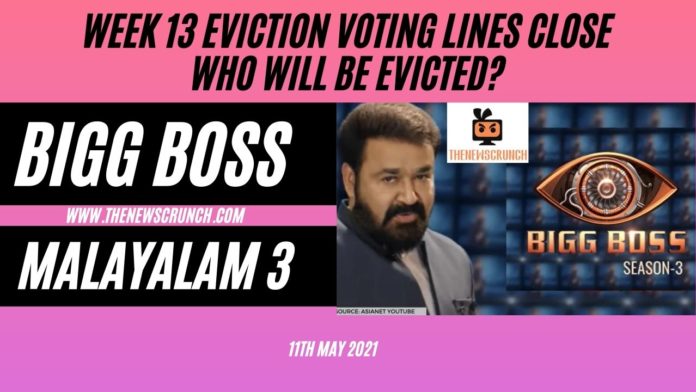 Bigg Boss Malayalam Season 3 enters an entertaining thirteenth week. The controversial show evicted nine of its contestants so far. Six contestants re-entered the nominations list for eliminations in week 13 of Bigg Boss Malayalam Season 3. The fight against eviction for the nominated contestants extends until Tuesday as the voting lines close. However, the voting results promise major suspense on Wednesday's episode.
Adoney John, Sandhya Manoj, Sajna/Firoz, Bhagyalakshmi, Majiziya Bhanu, Lakshmi Jayan, and wildcard entrants Michelle Ann, Remya Panicker, and Angel Thomas were the contestants who got evicted so far.
Though there was no eviction last week, the voting lines were extended for the same nominations until Tuesday. Hence, Bigg Boss Malayalam Season 3 did not have a nominations task this week. However, the extension of the show by two weeks opens up the plot for a fiery week.
The drama surrounding this week's childhood task and allied fights is impacting the voting results by considerable means. Remya and Soorya are lurking around in the bottom two and Sai Vishnu's safety seems to be a huge positive for his prospects this week.
Bigg Boss Malayalam 3 Voting Results Week 13 Eviction – 11th May 2021
Rithu – 14% vote share (154,201 votes)
Ramzan – 16% vote share (166,147 votes)
Remya Panicker – 13% vote share (153,123 votes)
Soorya – 11% vote share (131,522 votes)
Sai Vishnu – 20% vote share (240,125 votes)
Manikuttan – 24% vote share (254,702 votes)
Bigg Boss 3 Malayalam Nominated Contestants Week 13
Ramzan
Sai Vishnu
Manikuttan
Soorya Menon
Rithu Manthra
Remya Panicker
Bigg Boss 3 Malayalam Eviction Week 13 Voting Trends and Analysis
The closure of voting lines and fights was the major highlight of this week. Though there were no nominations this week, there were obvious choices for the next week's nominations.
The last day of extended voting promises an epic battle between the nominated contestants.
With the finale closing in four weeks, the contestants consider every eviction to be crucial from now onwards.
The fight between Manikuttan and Ramzan is a clear indication that the game is on and Ramzan will fight to take Manikuttan's place.
Sai Vishnu's screen presence was minimal this week but it was good enough to provide him the top two position.
Manikuttan was very calm after his reentry but groupism targets him and his consolidated title winner tag.
The children role play task performances will be crucial but the audience don't have enough time to vote this week.
Remya was the popular eviction option and these two days of extended voting do not tilt the eviction danger away from her.
Soorya is also close to eviction but it will be interesting to see if luck plays in her favor.
Midweek eviction suspense will be revealed soon but these two contestants are in utmost danger.
Captain Anoop was safe from nominations this week. 
Who Will Be Safe From Eviction This Week?
According to reports, Sai Vishnu and Manikuttan are likely to be safe this week.
Who Will Be in Danger of Eviction This Week?
According to reports, Remya or Soorya are likely to be evicted this week.
Bigg Boss Malayalam 3 Evicted Contestants
Lakshmi Jayan (Week 2)
Michelle Ann (Week 3)
Angel Thomas (Week 4)
Remya Panicker (Week 5)
Majiziya Bhanu (Week 6)
Bhagyalakshmi (Week 7)
Sajna and Firoz (Week 8)
No Eviction (Week 9)
Sandhya Manoj (Week 10)
Adoney John (Week 11)