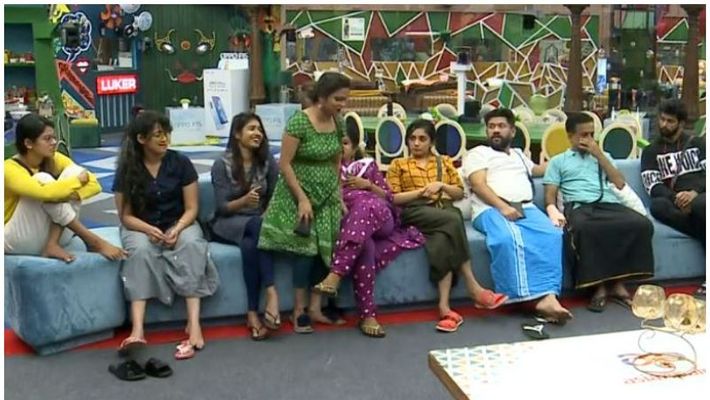 In Bigg Boss, every day, things are different. These things become clear when the eviction phase comes. Things are done in a manner that can be a group of people together and an invasion of hiding. The competitors are given tasks that help them understand how to interact. Although fewer people, today's eviction phase stands out.




Bigg Boss Malayalam 2 Week 8 Nominations List
Rajith: Fukru, Jezla
Sooraj: Veena, Rajith
Arya: Rejith, Jezla
Veena: Rejith, Fukru
Fukru: Veena, Rajith
Shaji: Fukru, Jezla
Jezla: Veena, Arya
No one was allowed to nominate Suraj and Captain Pashan Shaji in the open nomination. RajithKumar was the first to get nominated. Fukrul was nominated by RajithKumar. RajithKumar said that Fukru only becomes active when the game is on. Jasla is also nominated by RajithKumar. RajithKumar said that Jasla is only acting to undermine him. Suraj nominated Veena and RajithKumar. Suraj has said that Veena is a fan and RajithKumar refuses to listen to others.
Arya nominated RajithKumar and Jasla. RajithKumar does not hold hands and says that the shoulder is tilted. And yet it worked. When Mohan Lal asked him not to work, RajithKumar replied that he would not say that he did nothing. Then the registrant is done to show everyone. Arya said there are better people than Rejithkumar. Arya said Jasla is weak in the physical task. Arya said Jasla is not interested in everything.
Veena Nair nominated Rajith Kumar and Fukru. Veena Nair said that it was difficult for RajithKumar to always be in the game. Fukru is very emotional and a great fighter in Bigg Boss. Fukru is one of the two best fighters in Bigg Boss. He wants to move on. Veena Nair said that Fukru is nominated to proceed without interruption. Fukru nominated Veena Nair and RajithKumar. Fukru said that Veena Nair is emotional and Rajith Kumar is trying to get sympathy. Shaji also nominated Fukru and Jazla. Shahji said that the reason for the nomination was because of the things Fukru showed during the luxury task. The game was not taken as a game, Fukru did not participate in the game, and took the game away from others. Attaches Regit Sar alone. Shaji said that Jasla is also targeting Mash alone. Jasla Veena and Arya were nominated. Veena Nair plays Fake Game Jasla said Arya often has many opinions.
Bigg Boss also announced the nominees for Evolution. Rajith, Arya, Veena Nair, Fukru, Jasla and Sooraj have been nominated. Bigg Boss asked Arya if she was using the opportunity to escape Eviction. Arya replied that she was facing the eviction phase, not using the opportunity given to the task.




Who is Your Favorite Contestant this Week?