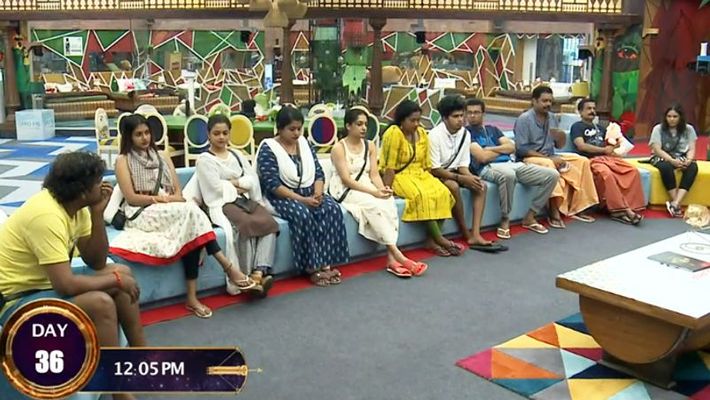 Bigg Boss Malayalam Season 2 Sixth Week Elimination List ready after the nomination from the entire contestants, eight were announced to the Bigg Boss Elimination List. However, those who were placed first in the self-determination task were given a 'nomination free card'. Using this one, someone went off the list. The remaining seven have made it to the list this week. These are the people the audience should vote for. Bigg Boss had said that the current captain should not nominate Shaji and five others outside the House because of their on going treatment.




This is how the nomination took place
Daya Aswathi- Manju Peter and Pradeep Chandran
Pradeep Chandran- Daya Aswathy and Rejith Kumar
Jasla Madassery- Rejith Kumar and Daya Aswati
Manju Peter- Rejith Kumar, Daya Aswathy
RJ Suraj- Arya and Veena Nair
Alena Padikal – Rejith Kumar, Daya Aswati
Arya- Daya Aswati, Rejith Kumar
Fukru- Jasla Madassery, Rejith Kumar
Rejith Kumar- Veena Nair, Manju Peter
Veena Nair- Daya Aswathy and RJ Suraj
Shaji- Rejith Kumar, Jasla Madassery
The highlight of the week was the Bigg Boss Elimination List, which saw the number of votes cast. According to Bigg Boss, Rejit hKumar, Daya Aswati, Jasla Madassery, Manju Peter, Veena Nair, Pradeep Chandran, Arya and RJ Suraj have been added to the elimination list. Bigg Boss then asked the two of them if they would like to use a nomination-free card. Bigg Boss asked Jasla and Arya about this. When Jasla said she was using it, Arya said it was not. With this, Jasla was released from the elimination list. Arya continued in it.
Votes received by everyone on the elimination list from housemates are:
REJITH KUMAR- 7
Daya Aswathy- 6
Manju Peter 2
Veena Nair- 2
Jasla Madassery 2
Pradeep Chandran- 1
Arya- 1
RJ Suraj- 1
Bigg Boss Malayalam 2 Vote Week 6
Install Hotstar App on your Android or IOS phone
Login using your phone number or email or create an account with Hotstar.
Search for "Bigg Boss"
In that click on vote now button and vote for your favourite contestant.
There are totally 50 votes and you can split the votes for multiple contestants too.
We also have an unofficial Bigg Boss Malayalam season 2 voting poll and you can vote below as this will help us to track who will get eliminated during Week 5.




Who is Your Favorite Contestant This Week?