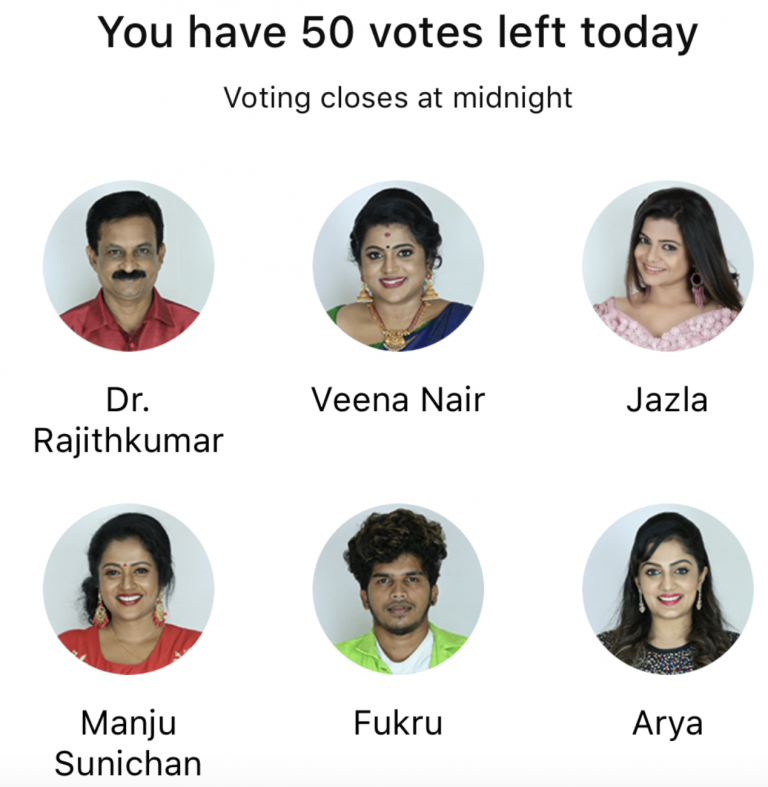 Bigg Boss Malayalam 2 enters its seventh week. The drama, chaos, fun and fights continue to a great extent in the Bigg Boss Malayalam 2 house. Week 1 was peaceful with the contestants sharing their personal stories and Mohanlal warned them for a few violations against the rules of Bigg Boss. Mohanlal announced the season's first elimination to happen this weekend and Rajini Chandy was evicted. The second elimination of Bigg Boss Malayalam 2 was Reshma Rajan and Somadas made an unexpected exit due to illness. Following this, Thesni Khan was eliminated in the end of Week 4. Pradeep Chandran was the eliminated last week. However, the suspense of this week's elimination is exciting to see.
As Bigg Boss Malayalam 2 enters the decisive phase of sixth elimination while contestants and audience are still in the bonhomie, the seventh week elimination of Bigg Boss Malayalam 2 this week will be a very interesting one.




The weekend episodes promise a lot of action and suspense as the host Mohanlal digs into the happenings of the week. Though eviction nominations have been announced, it is not quite obvious about who will be evicted this week.
Bigg Boss Malayalam 2 Week 7 Elimination Updates
There were no eliminations on Week 5 and week 6 witnessed the elimination of Pradeep. Reshma gets a break from nominations again this week due to her eye infection. Meanwhile, Rajith was the leader of audience voting last week and is nominated this week as well. The fight for the top position is likely to be between Fukru and Rajith Kumar. Fukru makes his way into nominations for the first time.
Elimination Nominations For Week 7 Bigg Boss Malayalam 2
Dr Rajithkumar
Veena Nair
Jazla
Manju Sunichan
Fukru
Arya
Bigg Boss Malayalam 2 Elimination Nominations Process
Each contestant nominated two other contestants and as a result, six ven contestants were nominated which builds up the possibility of a double eviction this week. This is how the contestants voted for each other.
The nomination is as follows:
RJ Suraj- RajithKumar, Jasla Madassery
Jasla Madassery- RajithKumar and Manju Peter
RajithKumar- Fukru and Manju Peter
Manju Peter- RajithKumar and Veena Nair
Arya- Jasla Madassery, Rajith Kumar
Fukru- RajithKumar and Veena Nair
Shaji- RajithKumar and Veena Nair
The announcement of Bigg Boss came shortly after the nominations were completed. These are the six people who have made it to the elimination list. Bigg Boss asked Arya if she was using a "nomination free card". Arya replied that she was not. The highlight of this year's nomination was that all the other contestants said the name of Rajith Kumar. This is also the first time that Fukru is in elimination nomination.
Rajith Kumar Leads with 79% Voting Share In Major Polling Reports, Manju in Danger Zone – Day 3 of Audience Voting – February 20th
As expected, Rajith Kumar is leading in major polling reports from day 1 of audience voting. However, it was surprising to see the Fukru and Arya get nominated for eliminations this week. Though the contestants are fighting hard to get saved from evictions, the tasks will be getting tougher and intense by the day.
Rajith Kumar and Fukru are the top two in the audience voting polls. However, these are early trends and will swing either way. Arya and Veena are not safe by a mile. Though, Manju is trailing the voting trends can change based on the performances in the upcoming week. However, the fight for the bottom position will intensify as three contestants are in contention. Jazla, Veena and Manju need to lift up their games to stay afloat in this season of Bigg Boss Malayalam 2.
Luxury Budget Task Triggers Massive Fight Between Jazla and Rajith's Team Which Won the Task
Shaji, Rajith, Veena and Arya were Team B. Manju, who was injured during the match, was given treatment by Bigg Boss. The game led to many disputes and accusations among the contestants. Jazla told her teammates Fukru and Manju that the rival Rajith Kumar and Veena Nair were acting in pain. Jazla also told Bigg Boss that Rajith's injury was acting. When asked why Jazla is not playing any part in the game, Jazla claimed that Manju and Rajith were faking their injuries. Jazla also emphasized that she might leave the house this week with the love and humanity she has.
Manju Sunichan's Drama Irking the Audience?
The audience of Bigg Boss Malayalam 2 are disappointed since Manju Sunichan did not get eliminated last week. Rajith and Sooraj were declared safe while the fate of Manju and Pradeep hung in balance. The audience were tired of Manju's excessive emotional drama. However, the real surprise was revealed when Pradeep was eliminated. The fans of Bigg Boss Malayalam 2 could not digest this and hence, urged for fair voting process.
Manju is trailing this week and seems to have a higher possibility of elimination.
Will Fukru and Rajith's Fight Have an Impact on Audience Voting This Week?
Though Fukru is not nominated for elimination this week, he is the most followed contestant of Bigg Boss 13 after Rajith Kumar. A huge scuffle erupted between Fukru and Rajith Kumar much against the expectations of the audience. It would be interesting to see if Veena Nair might bare the brunt of this fight as she is already trailing, while Rajith is safe at the top of the audience voting.
Bigg Boss Malayalam 2 Week 7 Elimination Vote Share – Day 3 of Audience Voting – February 20th
Dr Rajithkumar – 79% vote share
Veena Nair – 4% vote share(DANGER)
Jazla – 2% vote share (DANGER)
Manju Sunichan – 2% vote share(DANGER)
Fukru – 10% vote share
Arya – 4% vote share
Bigg Boss Malayalam 2 Voting Online Week 7
Install Hotstar App on your Android or IOS phone
Login using your phone number or email or create an account with Hotstar.
Search for "Bigg Boss"
In that click on vote now button and vote for your favourite contestant.
There are totally 50 votes and you can split the votes for multiple contestants too.
You can vote at our voting poll to get instant results about your favourite contestants




Vote to save your favourite Contestant
Who will get evicted this week? Let us know in the comments below.