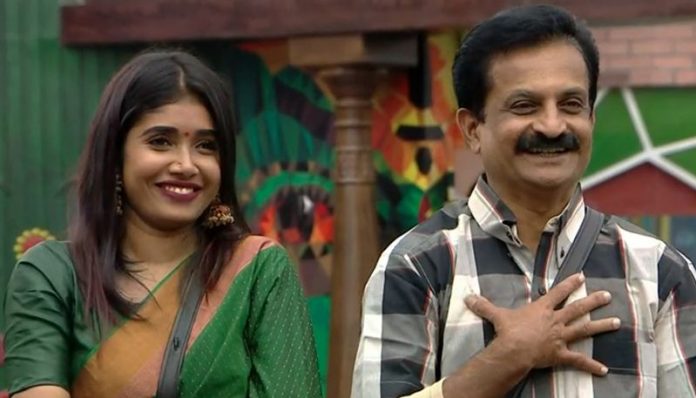 Bigg Boss Malayalam 2 enters its fourth week. The drama, chaos, fun and fights continue to a great extent in the Bigg Boss Malayalam 2 house. Week 1 was peaceful with the contestants sharing their personal stories and Mohanlal warned them for a few violations against the rules of Bigg Boss. Mohanlal announced the season's first elimination to happen this weekend and Rajini Chandy was evicted. The second elimination of Bigg Boss Malayalam 2 was Reshma Rajan and Somadas made an unexpected exit due to illness.
As Bigg Boss Malayalam 2 enters the decisive phase of third elimination while contestants and audience are still in the bonhomie, the fourth week elimination of Bigg Boss Malayalam 2 this week will be a very interesting one.




The weekend episodes promise a lot of action and suspense as the host Mohanlal digs into the happenings of the week. Though eviction nominations have been announced, it is not quite obvious about who will be evicted this week.
The entry of two wildcard entries, Daya Ashwathy and Jazla Madassari are expected to spice up things in the Bigg Boss house this week.
Elimination Nominations For Bigg Boss Malayalam 2
Veena Nair
RJ Raghu
Dr. RajithKumar
Pradeep Chandran
Arya
Thesni Khan
Rajith Kumar Leads In Major Polling Reports, Arya, Thesni and Pradeep in Danger Zone – Day 5 of Audience Voting – February 1st
As expected, Rejithkumar is leading in major polling reports from day 1 of audience voting. However, it was surprising to see the RJ Raghu and Veena get nominated for eliminations this week again. Though the contestants are fighting hard to get saved from evictions, the tasks will be getting tougher and intense by the day.
Dr Rejithkumar and Arya are the top two in the audience voting polls. However, these are early trends and will swing either way. Thesni and Veena are not safe by a mile. Though, Thesni is trailing the voting trends can change based on the performances in the upcoming week.
Rajith Kumar Wins Captaincy Task and Becomes Safe this Week! Who are In Danger?
Arya, Rajith and Jazla were the contenders for captaincy task this week. While Arya and Rajith were nominated for eliminations this week, Jazla is the new wildcard entrant. However, Rajith completed the captaincy task which involved completing a jigsaw puzzle. Rajith receives much needed immunity though he is leading in the audience voting results.
As a result, Arya, Thesni and Prabhu are lurking in danger of elimination this week.
Veena's Desperate Measures to Get Back to Safety Revealed?
Veena is a prominent face in the elimination nominations so far. However, she is lurking in danger as no contestant except Rajith is safe this week. Wildcard entries jibe at Veena and terming her as 'Kulasthree'. However, Veena didn't take it easily and make a ruckus for her statement. Thesni accused Veena of making an issue out of it since she is nominated this week. Is Veena doing enough to grab the limelight during these tough times?
Did Veena Do the Wrong Thing of Siding Against Rajith in Captaincy Task?
Rajithkumar is the most popular contestant of Bigg Boss Malayalam 2 so far. It was evident as the wildcard entry, Jazla started targeting him as soon as she entered the house. Veena bore the brunt of siding against Rajith in the captaincy task which triggered most of the contestants to nominate her for the eliminations this week. Considering Veena to be in danger, will she be eliminated this week?
Bigg Boss Malayalam 2 Week 4 Elimination Vote Share – Day 5 of Audience Voting – February 1st
Veena Nair – 10% vote share
RJ Raghu – 9% vote share (DANGER)
Dr. RajithKumar – 55% vote share (SAFE)
Pradeep Chandran – 9% vote share (DANGER)
Arya – 9% vote share (DANGER)
Thesni Khan – 9% vote share (DANGER)
Bigg Boss Malayalam 2 Voting Online Week 4
Install Hotstar App on your Android or IOS phone
Login using your phone number or email or create an account with Hotstar.
Search for "Bigg Boss"
In that click on vote now button and vote for your favourite contestant.
There are totally 50 votes and you can split the votes for multiple contestants too.
You can vote at our voting poll to get instant results about your favourite contestants




Vote to save your favourite contestant
Who will get evicted this week? Let us know in the comments below.