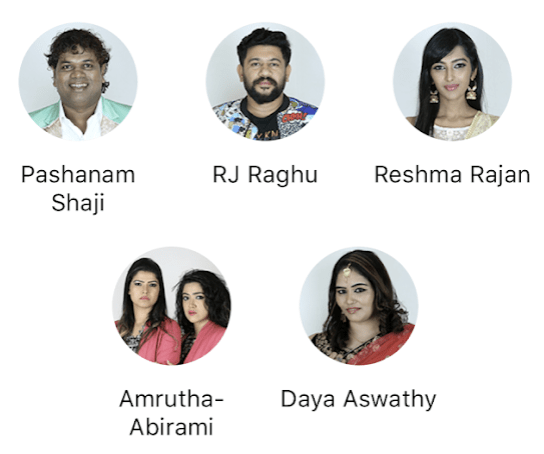 Bigg Boss Malayalam 2 enters its tenth week. The drama, chaos, fun and fights continue to a great extent in the Bigg Boss Malayalam 2 house. Week 1 was peaceful with the contestants sharing their personal stories and Mohanlal warned them for a few violations against the rules of Bigg Boss. Mohanlal announced the season's first elimination to happen this weekend and Rajini Chandy was evicted.
The second elimination of Bigg Boss Malayalam 2 was Reshma Rajan and Somadas made an unexpected exit due to illness. Following this, Thesni Khan was eliminated in the end of Week 4. Pradeep Chandran was the eliminated in the end of week 6. Manju Pathrose was eliminated last weekend on Saturday. Jazla and Sooraj were eliminated as a result of week 8's elimination. Veena Nair was eliminated last week.




Most of the contestants have returned to the house after their eye infection treatments.
As Bigg Boss Malayalam 2 enters the decisive phase of tenth elimination while contestants and audience are still in the bonhomie, the tenth week elimination of Bigg Boss Malayalam 2 this week will be a very interesting one.
The weekend episodes promise a lot of action and suspense as the host Mohanlal digs into the happenings of the week. Though eviction nominations have been announced, it is not quite obvious about who will be evicted this week.
Bigg Boss Malayalam 2 Week 10 Elimination Updates
There were no eliminations on Week 5 and week 6 witnessed the elimination of Pradeep. Week 7's elimination was Manju Pathrose who was trailing in vote share from day 1. Week 8 saw a supposedly shocking yet obvious double eviction of Jazla and Sooraj, as predicted by the News Crunch polls. Veena was saved by a whisker in week 8 but could not hold on to the competition in week 9 and was eliminated.
Rajith Kumar and Fukru take a break from nominations this week as well. Shaji was in the bottom two last week and is a part of elimination list for this week . The fight for the top position is likely to be between Amrutha/Abirami and RJ Raghu.
Elimination Nominations For Week 10 Bigg Boss Malayalam 2
Pashanam Shaji
RJ Raghu
Reshma Rajan
Amrutha-Abirami
Daya Aswathy
Amrutha-Abirami Lead with 39% Voting Share In Major Polling Reports, Daya in Bottom – Day 2 of Audience Voting – March 11th
As expected, Amrutha and Abirami are leading in major polling reports from day 1 of audience voting. However, it was surprising to see the Pashanam Shaji and RJ Raghu get nominated for eliminations this week. Though the contestants are fighting hard to get saved from evictions, the tasks will be getting tougher and intense by the day.
Amrutha /Abirami and Raghu are the top two in the audience voting polls. However, these are early trends and will swing either way. Reshma and Shaji are not safe by a mile. Though, Daya is trailing the voting trends can change based on the performances in the upcoming week. However, the fight for the bottom position will intensify as three contestants are in contention. Daya, Veena and Shaji need to lift up their games to stay afloat in this season of Bigg Boss Malayalam 2.
Will Rajith Kumar's Shocking Elimination Change the Course of Elimination This Week?
Rajith Kumar was eliminated from the house due to his misconduct during the school task. Rajith Kumar was a strong contestant in the Bigg Boss Malayalam 2 house and this news comes as a shocker to his fans. However, it would be interesting to see if Rajith's elimination has any impact on this week's eviction. Currently, Daya and Reshma are in the bottom 2 but it could swing either way as the week progresses.
Is the Amrutha-Abirami Combo the Strongest Contestant Among the Nominations?
For the first time in the history of Bigg Boss Malayalam, two contestants have been nominated together. Week 9's elimination nominations were spiced up with this twist from Bigg Boss. However, from the audience voting trends, it looks like Amrutha and Abirami are riding on each other's shoulders with ease and are dominating the audience voting which is missing Rajith Kumar. The story seems to be the same this week as well. Amritha and Abirami are likely to be the dominating duo in this week's elimination audience voting as well.
Bigg Boss Malayalam 2 Week 10 Elimination Vote Share – Day 2 of Audience Voting – March 11th
Pashanam Shaji – 16% vote share
RJ Raghu – 21% vote share
Reshma Rajan – 12% vote share (DANGER)
Amrutha-Abirami – 39% vote share
Daya Aswathy – 11% vote share (DANGER)
Bigg Boss Malayalam 2 Voting Online Week 10
Install Hotstar App on your Android or IOS phone
Login using your phone number or email or create an account with Hotstar.
Search for "Bigg Boss"
In that click on vote now button and vote for your favourite contestant.
There are totally 50 votes and you can split the votes for multiple contestants too.
You can vote at our voting poll to get instant results about your favourite contestants




Vote to save your favourite contestant
Who will get evicted this week? Let us know in the comments below.