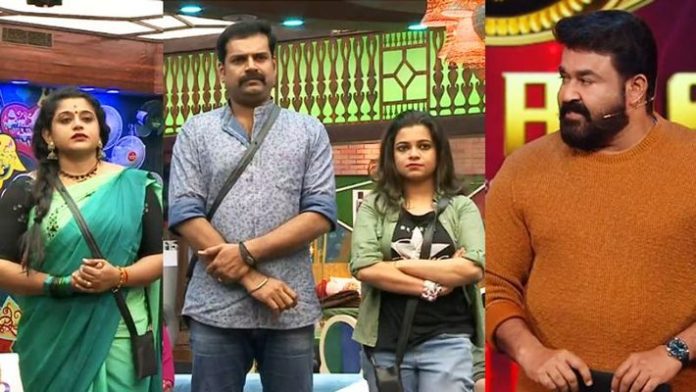 The most exciting and exciting episodes of Bigg Boss are the Saturn and Sunday episodes where Mohanlal will be presenting. These days, the announcement of who is on the elimination list for the week will be announced. Elimination announcements are most often made on Sundays, but sometimes on Saturdays. An example of this was last week's elimination. Mohanlal's announcement last Saturday But who's going to be out this week? In a Sunday episode, Mohanlal replied to the question that Big Boss audiences and contestants were eagerly awaiting.




Five people were on the elimination list this week. Reshma, Veena Nair, Daya Aswathy, Pradeep Chandran and Jasla Madassery. Earlier, Mohanlal had announced that Day Aswati is safe this week. Mohanlal also shared how it was a pity that he got the most number of votes this week. Reshma is currently out of the house due to tears. Mohanlal's announcement came after three other members of the elimination list were asked to stand up.
Mohanlal asked Pradeep, Jasla and Veena who would be the most sad if they left. Only Pradeep raised his hand. Pradeep said he was disappointed when he was asked why he did not wait for his arrival. Lal asks Veena and Jasla why she is not sad. Veena said she would continue with her sensitive behavior even as she had explained before and it would be difficult. Jasla also said that if she had to go out now, she would be happy and that is how she took her life.
After being told to sit down with Pradeep and Veena, Mohanlal shared the surprise with Veena and others. Information about no elimination this week! The message from Bigg Boss in his hand was highlighted by Mohanlal. It had 'No Eviction' written on it. Most of the contestants greeted Mohanlal's words with applause. This was mainly due to the fact that five contestants have already left the show due to eye infection. But it's expected that next week there may be double eviction.