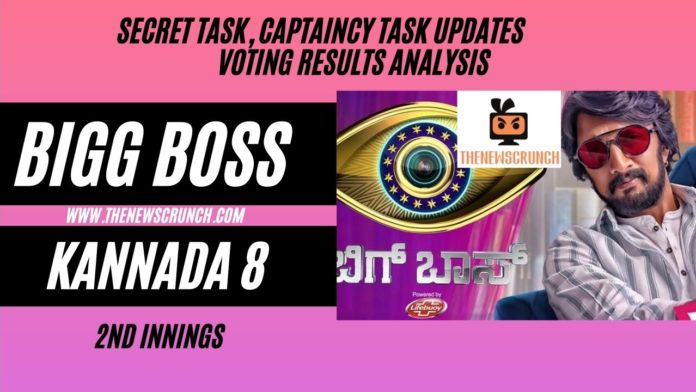 Bigg Boss Kannada 8 is in the middle of a competitive week as the secret task concluded. The nominations list for this week's elimination included nine contestants. Shubha Pooja was safe from eliminations as Divya Urudaga saved her. However, Aravind was directly nominated by the last evicted contestant, Nidhi Subbiah. The suspense around the BBK8 eviction this week takes precedence.
The captaincy task will be a critical one for the nominated contestants. Keeping in the mind the consequences of eviction, the contestants continue to push hard in terms of task performances. The bottom three contestants will face danger as the possibility of double eviction is still alive for this weekend.
BBK8 Nominations List For This Week
Aravind
Manju
Vaishnavi
Divya Suresh
Shamanth
Raghu
Prashanth
Priyanka
Chakravarthy
Bigg Boss Kannada 8 Voting Results and Trends Analysis
Aravind KP continues to lead majority of the unofficial voting results ahead of the finale week. However, his direct nomination failed to deter his fans of their support.
Divya Urudga will make the most of her captaincy week and is safe. However, the impact created in the minds of the audience matters the most.
The top three performers of the secret task with the maximum points were Divya Suresh, Vaishnavi and Manju.
Due to the task performance, Divya Suresh propelled to the second place of the voting results. Vaishnavi is closely tied with Divya for the third position.
Manju and Prashanth complete the top five of the voting results. This could also be the potential finalists list.
Chakravarthy compromised with Prashanth as the duo got back to their routine gossips. However, Chakravarthy faces immense danger of elimination this week.
If there is a double elimination, Chakravarthy and Priyanka will be the obvious choices.
Shamanth is losing his track during a critical phase in the competition. Shamanth's individuality is clouded by his excessive time with Prashanth and Chakravarthy.
Bigg Boss Kannada 8 Top 3 Safe Contestants
Aravind, Divya Suresh, and Vaishnavi are safe from elimination this week.
Bigg Boss Kannada 8 Bottom 3 Contestants
Chakravarthy
Priyanka
Raghu
The vote share for the unofficial voting polls of Bigg Boss Kannada 8 will be published from tomorrow.