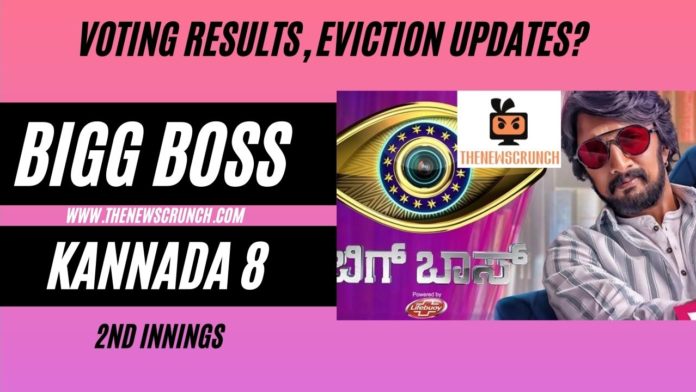 Bigg Boss Kannada 8 started off with a gripping 'secret task' this week. However, the limelight is on the nominations for eviction this week. After a suspense-filled weekend, Nidhi Subbiah was evicted from the reality show. The captain of this week Divya Urudaga will play a pivotal role in the proceedings of this week. The contestant with the least votes among the nine nominations will be eliminated this weekend.
Out of the nine nominated contestants, three contestants face the immense danger of eviction this week. However, the limelight is on the stronger contenders who will to enter the finale week.
BBK8 Nominations List For This Week
Aravind
Manju
Vaishnavi
Divya Suresh
Shamanth
Raghu
Prashanth
Priyanka
Chakravarthy
Bigg Boss Kannada 8 Voting Results and Trends Analysis
All the housemates started off the week with a fun-filled 'secret task. Among the nominated contestants, Raghu's performance was commendable.
The top three contestants of the show, Divya Suresh, Vaishnavi, and Aravind will know the support from their fan bases as a result of their nominations.
According to reports, Aravind the title winner of BBK8. However, the makers could spring a surprise in this case.
Divya Urudaga is strong and will be an obvious finalist of Bigg Boss Kannada 8.
The second innings of Bigg Boss Kannada 8 begins to lose steam. Hence, the nominations for this week will be pivotal to decide the fate of the finalists.
Priyanka entered the show as a wildcard entry but she is the weakest female contender at the moment.
Chakravarthy was the last wildcard entrant in Bigg Boss Kannada 8. Prashanth's close aide faces a massive risk of eviction this week.
The vote share for Manju is volatile as the competition intensifies by the day.
Bigg Boss Kannada 8 Top 3 Safe Contestants
Aravind, Divya Suresh, and Prashanth are safe from elimination this week.
Bigg Boss Kannada 8 Bottom 3 Contestants
Chakravarthy
Priyanka
Raghu
The vote share for the unofficial voting polls of Bigg Boss Kannada 8 will be published from tomorrow.