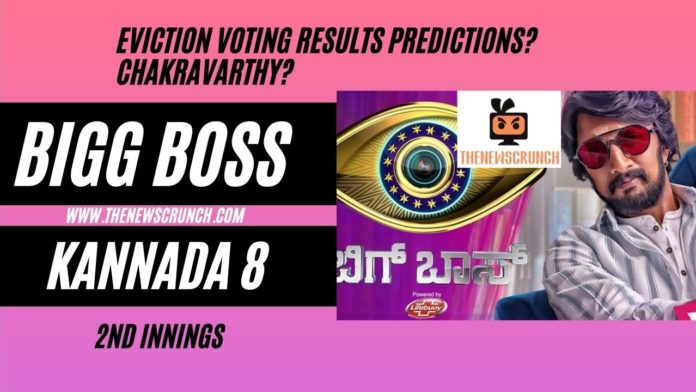 Bigg Boss Kannada Season 8 second innings started off on a promising note as Monday's Mystery Box nominations took place. The fight for safety from elimination begins this week in BBK8 house as the voting window opens. Only three contestants, Divya Suresh, Vaishnavi, and Aravind are safe from nominations this week.
There is a lot to look forward to this week after an obvious elimination. Three contestants are lurking in danger with the least votes share on the first day of voting.
Divya Suresh's captaincy will be a bone of contention for the fellow housemates this week. However, Aravind is safe for yet another week.
BBK8 Nominations List For This Week
Manju
Divya Urudaga
Divya Suresh
Shubha Poonja
Prashanth
Shamanth
Chakravarthy (Direct Nomination)
Bigg Boss Kannada 8 Voting Results and Trends Analysis
With Aravind out of the nominations race, Divya Urudaga might dominate the voting results yet again.
Divya Suresh's captaincy will be elemental for her prospects to enter the BBK8 finale.
Chakravarthy nominated Shamanth and Shubha Pooja.
Divya Urudaga and Aravind nominated Manju and Prashanth. However, this strategy raised eyebrows among the audience.
Vaishnavi received only one vote which was from Manju. Hence, she is safe from nominations this week.
Prashanth nominated Divya Urudaga as the rivalry continues.
This week's captaincy task comes with an epic twist. The bottom-scoring contestants will be directly nominated for elimination next week.
With this strategy, Bigg Boss hopes to instill competitiveness among the contestants.
Bigg Boss Kannada 8 Top 3 Safe Contestants
Manju, Prashanth, and Divya Urudaga are safe from elimination this week.
Bigg Boss Kannada 8 Bottom 2 Contestants
Chakravarthy
Shubha Pooja
The vote share for the unofficial voting polls of Bigg Boss Kannada 8 will be published from tomorrow.