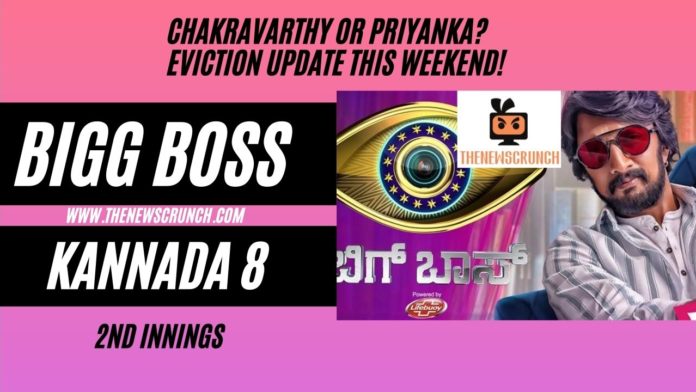 Bigg Boss Kannada Season 8 completes yet another drama-filled week marred by arguments, fights, and controversies. The limelight now shifts towards the eviction suspense as the weekend episodes beckon. The host Sudeep Kichcha will reveal the elimination amidst high drama and retrospect the events of this week.
Divya Urudaga's captaincy ended with several dissatisfied housemates including Prashanth and Shamanth. The currency task ended up with multiple issues as KP Aravind and Prashanth locked horns. There were several high voltage moments in the Bigg Boss house this week. However, three of the nine nominated contestants face the risk of leaving their Bigg Boss journey.
BBK8 Nominations List For This Week
Aravind
Manju
Vaishnavi
Divya Suresh
Shamanth
Raghu
Prashanth
Priyanka
Chakravarthy
Bigg Boss Kannada 8 Elimination Updates
There are high chances of a double eviction in BBK8 this week. However, this puts Chakravarthy and Priyanka in grave danger.
If there is a single-elimination this week, Chakravarthy is the eviction candidate due to the least amount of votes.
Chakravarthy's dwindling popularity and tussle with Prashanth worked against his favor.
Priyanka will be safe by a whisker if she manages to hold her guns for yet another week,
Prashanth's popularity spiked for speaking up against the hottest couple in the house, KP Aravind and Divya Urudaga. However, the popular couple was quite unfair by popular opinion.
Manju gained massive support this week and this comes in as good news for him.
Bigg Boss Kannada 8 Top 3 Safe Contestants
Manju, Aravind, and Divya Suresh are safe from elimination this week.
Bigg Boss Kannada 8 Bottom 2 Contestants
There are high chances of Priyanka and Shamanth's eviction. However, this is attributed to Chakravarthy's exit this week.