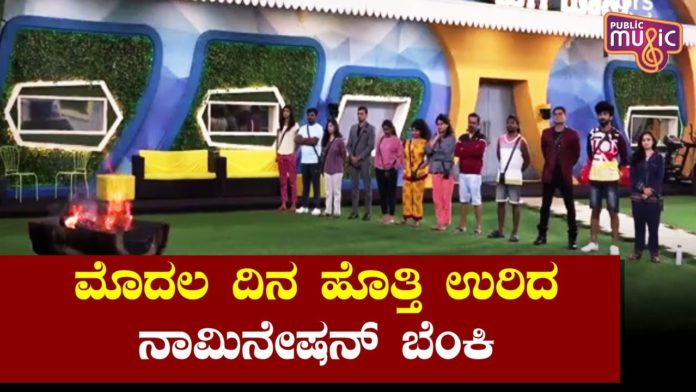 Big Boss Kannada season 8 Second innings is a special one. The second innings, which has not taken place in any language in any part of the world, will begin today at 6 pm in Colors Kannada. The first day's epic thriller coupled with exciting twists promises the same kind of thriller. All contestants have entered the Big House. Disgust over the contestants was also felt as they walked into the house. The contestants in the house were outraged by setting photos of Prashant Sambaragi and Chakravarthi Chandrachud on fire.

Bigg Boss announced open nominations where each contestants have to burn photos of two other contestants. Upon returning home from outside, there have been a lot of changes in the relationship and behavior of the competitors.The first day at home started with a game plan, hassle, and a fire of remorse.

The first day at the Bigg Boss house was lit by a fire of hatred. Prashanth Sambaragi has burned a photo of the contestants in the Bigg Boss house as they walk into the house. Raghu, Nidhi, Arvind and other contestants have burned photos of Prashanth.
Not just a photo of Prashant Sambaragi but also a picture of Chakravarthi Chandrachud. Divya Uruuda has set a photo of Divya Suresh on fire. In the process, Nidhi Subbayya has told Prashant that you are not my friends. He has also nominated Prashant Sambaragi. Arvind shot Manju's photo and I thought you were a friend. Manju and Divya Suresh's relationship has also changed a lot. Priyanka Thimmesh and Chakravarti Chandrachuda are supposed to be friends. Shubha Poonja Sakhat is happy to be back home.

The first day of Raghu and Prashant Sambaragi's relationship came under fire. Again, Shamant believes in fortunes as Silent as before or is still waiting for the knowledge of the game.