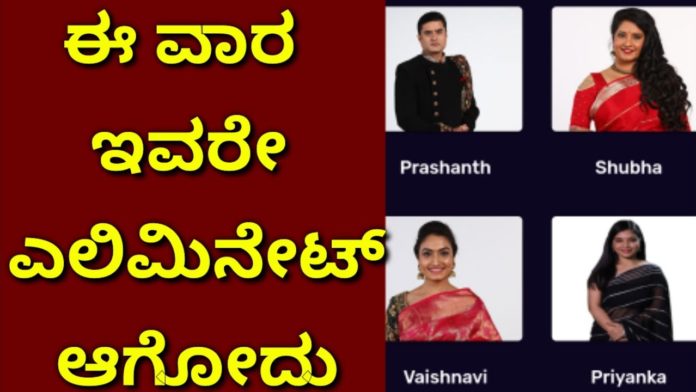 The third elimination of the second innings of Kannada Bigg Boss Season 8 takes place this week. Four contestants are on this week's nomination list. One of them will be out of the house this week. This will reduce the number of home contestants to nine. Here's information on who's getting eliminated from Bigg Boss house this week.
A different approach to the Bigg Boss nomination this week. Every week contestants are given the option of nominating. Nominees who do not like any contestants. This time Bigg Boss was not like that at home. Two teams at home and 10 tasks were given. The losing team members are nominated after the tasks.
Prashant Sambaragi, Priyanka Thimmesh, Vaishnavi Gowda, and Shubha Poonja are on the nomination list. These four candidates are prominent in the Bigg Boss house. One of them is out this week.
Check Out The Votes gained by each one of the nominated contestants
Vaishnavi Gowda: 87, 678 ( 55% voting)
Prashanth Sambargi: 56,987 ( 49.7% voting)
Shubha P: 44,451 ( 41.6% voting)
Priyanka T: 31,659 ( 33.5% voting)
Vaishnavi Gowda is getting everyone's attention at Bigg Boss house. Fans want to see her on the Top 5 list. Thus, they get more votes. Thus, you are less likely to leave home this week. Shubha Poonja Identified at Sandalwood They have a big fan base. For this reason, they have the most votes.
Prashant Sambaragi has changed a lot recently. Bigg Boss is mingling with all the contestants at home. Thus, he could be saved this week: Priyanka Thimmesh, the last surviving wild card entry. The talk of her leaving the Bigg Boss house this week has been on social media.