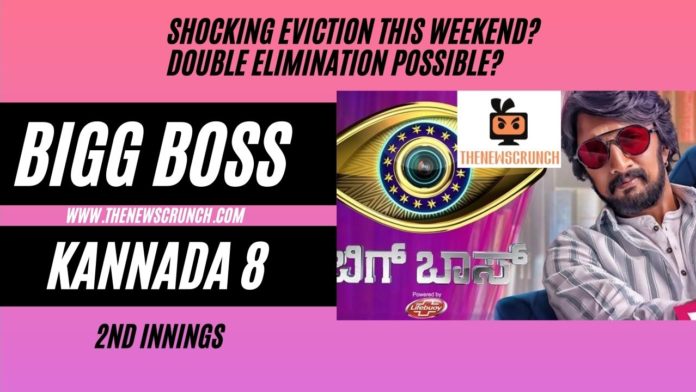 Bigg Boss Kannada 8 completes an eventful week after several turmoils inside the Bigg Boss house. As expected, the host Sudeep Kichcha was on fire with his introspection into Chakravarthy and Divya Urudaga's decisions, behavior this week. However, the limelight shifts to the elimination announcement on Bigg Boss Kannada 8's Sunday episode.
Among the nine contestants, three contestants had distinctively low votes. However, it looks like Colors Bigg Boss team chose to take the path of TRP contribution yet again. During the first innings of BBK8, several eliminations shocked the audience which led to outrage on social media. This week is no different compared to the rest.
Bigg Boss Kannada 8 Elimination
Bigg Boss Kannada 8 eviction announcement will take place on Sunday's episode. According to reports, Raghu is evicted from Bigg Boss Kannada 8 house. This speculation shocked the loyal audience of Bigg Boss Kannada 8. Several unofficial voting polls and trends indicated the obvious eviction of Chakravarthy. However, Chakravarthy contributed in terms of TRP with his feud with Prashanth and other negative elements this week.
While the speculation of double eviction continues, Priyanka was other choice for elimination, thanks to her low vote share and popularity. However, the audience were stumped when Raghu's name popped up for elimination this week.
Bigg Boss Kannada 8 featured nine nominations for the elimination this week. Out of this, Priyanka, Chakravarthy were the obvious choices.
However, with Raghu's eviction it would be interesting to see how the contestants brace for the proceedings in the upcoming week.