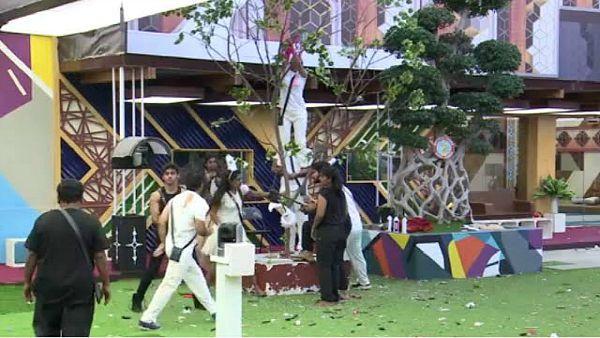 Bigg Boss Kannada 7 enters a decisive phase as the contestants grapple for safety from eliminations every week. The BB house is currently split for this week's luxury budget task. The luxury budget task is called 'Bigg Boss Loka' in which the housemates are divided into the 'Gandharvas' (angels) and 'Rakshasas' (demons).
The task revolves around each team's capability to gain more 'shakti' (power) from the other team's tree.
Bigg Boss Kannada 7 Week 9 Luxury Budget Task Highlights




Before the task there is a huge fight between Shine Shetty and Chandan Achar. The duo is currently leading the audience voting polls for this week. Shine accuses Chandan of strangling him for the sake of the task.
During the second day of the task, the 'Rakshasa' team decides to make their own breakfast which does not go down well with the other housemates. Chandana is captain for this week and attempts to mediate between the two sections of the house. Kishan attempts to make the house dirty as it the duty of the contestants from the other team.
Chandan Achar throws garbage in the kitchen when the 'Gandharvas' team is cooking. Deepika loses her cool but controls herself due to the task. Vasuki and Bhoomi warn Chandan as they fear Bigg Boss might penalize their team. Chandan fails to pay ear to his teammates piece of mind and continues on his destruction mode.
Later, on the task front, Bigg Boss gives an advantage task which involves moving metal bars. the 'Gandharvas' team manage to gain advantage. However, the captain and judge for the task, Chandana is facing the heat from both teams. She warns the 'Rakshasas' to stop strangling opposite team contestants. Chandana is accused of beign biased.
The twist in the game arrives when Bigg Boss decides to swap the teams which changes the whole game.
Chandan's own team members Vasuki Vaibhav and Bhoomi Shetty are seen warning him from crossing the limits. Chandan is least bothered and sets off on a rampage, destroying the housemate's personal belongings.
The team which played as 'Gandharvas' earlier is excited as they get a chance to take revenge on the other team.
The current 'Rakshasas' are in complete destruction mode as Deepika and Priyanka target Chandan for checking out their belongings. Shine pisses Chaitra Kottoor off. THere is a huge uproar in the house as nasty fights sprout up. Harish becomes frustrated on Chandan and Vasuki.
Raju Tallikote is injured during the task but is ignored due to the fights. He is eventually rushed to the medical room for attention.