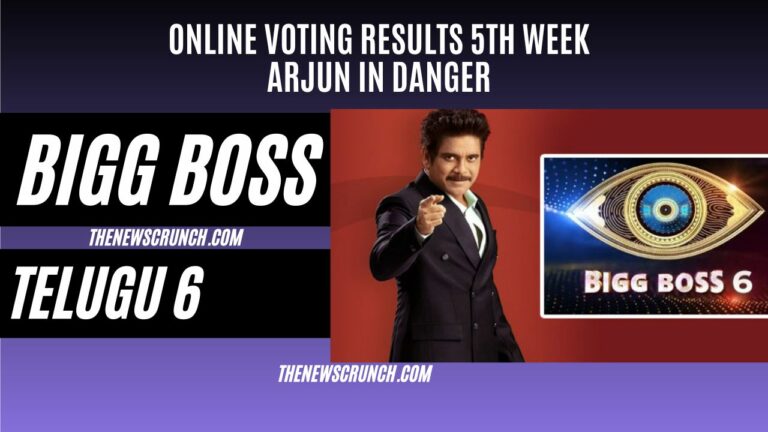 Bigg Boss 6 Telugu vote kickstarts its fifth week with an interesting set of tasks. Bigg Boss 6 Telugu continues to woo the audience despite a slump in TRP this season.Bigg Boss 6 Telugu voting results for the fifth week consists of eight nominations. However, the fight for the fifth eviction of Bigg Boss 6 Telugu is a close call so far.
Also Read: Bigg Boss 6 Telugu Vote Final Voting Results 5th Week Elimination
Bigg Boss 6 Telugu introduced the pair nominations task this week. According to reports,a male contestant will be eliminated this week to maintain the gender balance in the Bigg Boss 6 Telugu house. On that note, Arjun
Bigg Boss 6 Telugu Online Voting Results – BB 6 Telugu 5th Week Nomination List
Adi Reddy
Inaya Sulthana
Faima
Vasanthi
Baladitya
Marina
Arjun
Chanti
Bigg Boss 6 Telugu Voting Results Live Online Poll – Day 3 – 4th October 2022
Bigg Boss 6 Telugu Live Voting Results Poll 5th Week Elimination
Adi Reddy – 22% votes share
Inaya Sulthana – 8% votes share
Faima – 14% votes share
Vasanthi – 7% votes share
Baladitya – 19% votes share
Marina – 17% votes share
Bigg Boss 6 Telugu Voting Results Analysis – 4th October 2022
The voting results shows a tough fight in the bottom danger zone between Arjun, Chanti and Vasanthi. However, the votes for Bigg Boss 6 Telugu elimination could change on Friday.
Adi Reddy and Baladitya are leading the voting results in multiple unofficial polls while Marina and Faima look safe so far.
Geethu and Revanth get a break from elimination nominations this week.
Inaya lurked in danger during the first three weeks but is capitalizing on a bad start.
How to Vote Bigg Boss 6 Telugu Online Fifth Week Elimination on Hotstar App
For your queries on "How to Vote for Bigg Boss 6 Telugu?" below are the answers:
Download Hotstar App from Google Play Store or App Store
Create or login to your account on Hotstar App
Search for 'Bigg Boss' using the search box on the top right.
Select the Bigg Boss 6 Telugu show banner.
Now, you will find a Voting option below the latest Bigg Boss Ultimate video
Click the Vote button to cast your votes
Images of Nominated contestants will appear on the screen
Tap on your favorite contestant and split your votes
You can vote a maximum of 10 votes a day (Voting closes at midnight)
Bigg Boss 6 Telugu Eliminated List
Shani Salmon
Abhinaya
Neha
Arohi