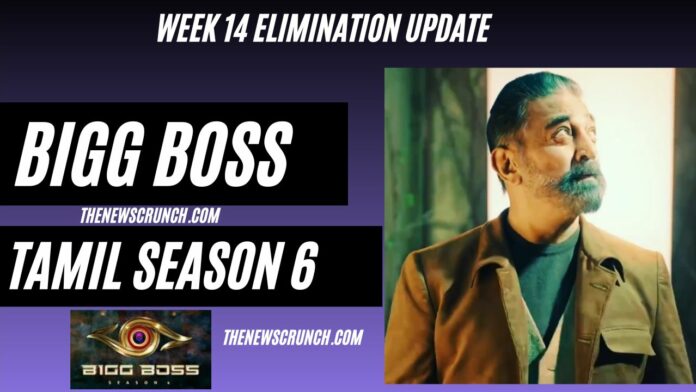 Bigg Boss 6 Tamil completes its fourteenth week amidst the intriguing sacrifice tasks. The fourteenth week elimination nominations list features six contestants. The voting results battle went down to the wire with ADK and Myna facing eviction danger. This will be the last eviction before the finalists are announced.
Bigg Boss Tamil voting window closed for the fourteenth elimination nominations. Few weak contestants face the audience yet again in this season before the finale week. This spiced up the urge among the contestants to set their game face forward to avoid becoming the fourteenth eviction in Bigg Boss 6 Tamil.
The announcement of eviction this week has spiced up proceedings both inside and outside the BB house. Vikraman, Shivin, ADK and Azeem enter the nominations this week. However, a shocking elimination took place last week.
Bigg Boss 6 Tamil fourteenth Eviction Update (Week 14)
The captaincy task  challenge was won by Amuthavanan. However, Bigg Boss chose not to have a captain this week. There are quite a lot of rumors about the shocking elimination in the fourteenth week. Myna, and ADK are in the bottom two this week. However, the vote share difference between Myna, and ADK is minuscule. However, the official update on the fourteenth eviction indicates safety for Shivin and Vikraman.
Myna Nandini is the fourteenth elimination of Bigg Boss 6 Tamil. However, ADK's survival is subjected to his performances in the upcoming week. This week concludes the last nominations of Bigg Boss 6 Tamil. Myna received the least amount of votes however, ADK was portrayed to be in the bottom of the voting results.
Bigg Boss 6 Tamil Elimination List (14th Week)
Shanti Master (Week 2)
Asal Kolar (Week 3)
Sheriina (Week 4)
Maheshwari (Week 5)
Nivashini (Week 6)
Robert (Week 7)
Queency (Week 8)
Ayesha (Week 9)
Ram (Week 9)
Janany (Week 10)

Dhanalakshmi (Week 11)
Manikanta (Week 12)
Rachitha (Week 13)
Myna Nandini (Week 14)