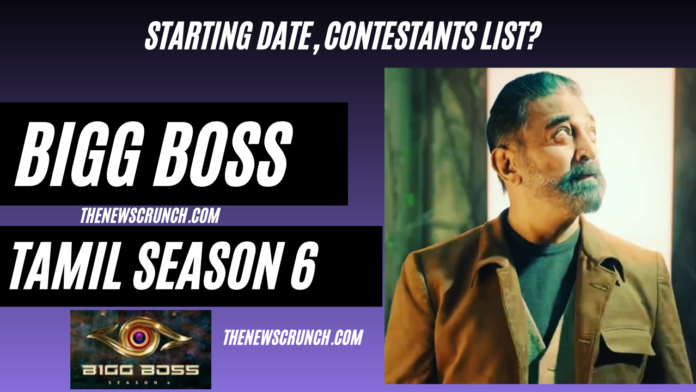 At present a hot info buzzing around the internet is about Bigg Boss Tamil Season 6. The show is set to great launch on 9th October 2022, hosted by great star Kamal Haasan. The team has planned to include commoners and fames from the media industry in the house.  Until now the makers released promos and relished a clue about the show and details yet as usual they didn't revealed about contestants list.
According to the media buzz, many speculations are doing the rounds about the list of some of the confirmed contestants from the media personalities. As BB6 Tamil is about to launch, it has started gaining significant traction among the audience. A detailed list of mostly confirmed contestants can be found here.
Bigg Boss 6 Tamil contestants list
Surely Bigg Boss 6 Tamil season big screen will flood your brain with all its features. They have held talks with many celebrities including Roshini, Ashwin, Srinidhi, VJ Archana. But it is not confirmed whether they have accepted the invitation or not. Currently the following lists are expected to be part of the BB6 Tamil house:
VJ Dhiya Dharshini
It is known fact that the team is having continuous talk with DD for BB show form previous seasons as well. Due to her some of her own reasons she refused to take the invite in all previous seasons. But the news is buzzing around the media like this time she is believed to become one of the most confirmed contestant list.
Ashwin
As we all knew Ashwin gets into lime light through the COOKU WITH KOMALI show. Then again he trapped in many controversies and gained defame among the audience. Yet the audience are expecting him to participate in the show to make the show even more interesting.
Roshini Haripriyan
Roshini is famous for her serial 'Bharathi Kannama' aired on Vijay TV. A few months ago she walked out of the serial, which was a shocking news to the viewers. Now the media suspects that she quit the serial to participate in the Tamil show BB6.
 Sreenidhi
Dharsha Gupta
Rachita Mahalakshmi
Rajalakshmi
VJ Rakshan
Indraja Shankar
Monica Richard
VJ Archana
Manisha Yadav
MS Bhaskar
Krithi Shetty
Ranjith
The above list is mostly expected contestant names from the media side. How ever the list is unofficial, so we have to hold the curiosity until the show premier begins.